INDIANAPOLIS – Because of the position he primarily played for Michigan last season, Jabrill Peppers showed up at the NFL Scouting Combine sporting an "LB" on his official gear and worked out with the linebackers.
He didn't look like he belonged, though. Not because he wasn't up to par, but because he has few peers.
"What do I look like?" Peppers said when asked where he sees himself playing on the next level. "I'm a safety. I'm a safety. Yes, I'm a safety."
It was a fair question because Peppers played 15 different positions for the Wolverines, making an impact on defense, offense and special teams. Before the combine, he was told he'd have to work out with the linebacker group because that was the position he played most last season – which he did to fit a need for Michigan. So, Peppers decided he'd simply stay an extra day and do drills with the defensive backs as well.
"They said the only way I can do it is if I do both," Peppers said. "I was like, 'That's easy. That's no problem at all.'"
It's somewhat reminiscent of two years ago, when Shaq Thompson arrived at the combine with a track record of success at linebacker, safety and running back. He opened his press conference saying he planned to play outside linebacker, but some teams weren't sure about his fit. That's part of the reason he was still sitting there at No. 25 overall when the draft rolled around two months later. The Panthers pounced, and Thompson is now showing signs of becoming a top linebacker in the league.
"We want to evaluate a player like him (Peppers) because we did the same thing with Shaq Thompson," head coach Ron Rivera said. "We had everybody talking to us, saying he's just a special teams player, to he's just a running back, or a safety or a linebacker. We looked at where he would best fit us. For us, it was a linebacker and what we call the 'Buffalo' where you can take a bigger guy and put him out onto a slot receiver and still have some athleticism.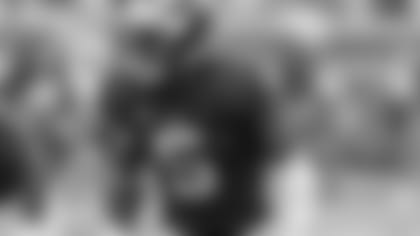 "Here's a guy in Peppers that gives you some safety traits and can probably come down in the box like a nickel or a linebacker. And if you ever really did need it you could put him on the offensive side as well. It's about how he fits you and what other special traits he has to help the football team."
The term "tweener" is becoming more and more common at the combine, and not just with back-seven types like Thompson and Peppers. Ohio State prospect Curtis Samuel was a wide receiver disguised as a running back last season, but he said at the combine that NFL teams have made it clear to him that his future awaits at wideout.
Offensive linemen who played tackle in college are being looked at as potential guards or in some cases even centers in the pros. Defensive linemen like Solomon Thomas flashed their versatility up and down the line of scrimmage in college and might be asked to do the same in the NFL, or they may be asked to concentrate on one spot or the other – depending on what team takes them and whether it's a 4-3 or 3-4 defense.
"Tweener is an interesting conversation, especially for an evolving league. There's a lot of tweeners out there," NFL Network draft analyst Mike Mayock said. "And Jabrill Peppers is a great conversation because what he did this year for the team. They put him as a linebacker and he was an in-the-box linebacker/strong safety. To me, he's a safety all day long.
"Now if you want to put him at dime linebacker in a third-down subpackage, sure, because it's a matchup game. Jabrill Peppers is a matchup player. In first down he might be one place, and on third down he might be at a different place."
During the draft process, figuring out how to fit top-10 talents like Peppers can pose a problem to NFL teams. But at the end of the day, it's a good problem to have.
"When you look at Peppers and what he does, wow," Rivera said.