CHARLOTTE – In the hours following the 2016 NFL Draft, some observers viewed linebacker Jeremy Cash as the top undrafted defensive player and wide receiver Keyarris Garrett as the top undrafted offensive player.
Sticking around is an uphill battle for even the most coveted of undrafted rookies, but Cash and Garrett are still Panthers.
"Last year, I knew I was fighting an uphill battle having to translate my safety skills to linebacker," Cash said.
"I knew if I wanted to make the team, it was going to be on special teams, and I managed to do that."
Cash spent the entire season on the 53-man roster as a rookie and appeared in half the games, primarily on special teams, where he tied for third on the team with six tackles. Garrett, a big-bodied wide receiver, spent his entire rookie campaign on Carolina's practice squad.
Following productive offseasons, the two chimed in on where they stand heading into their second training camp.
Cash: "Things are a lot easier. Obviously I'm still not perfect – I'm going to make mistakes – but the transition from safety to linebacker position has come.
"I wouldn't say I've arrived. There are things I still learn every day, but as far as frantic panicking when I'm out there, I've managed to build up my confidence and am now able to just go out there and make plays."
Garrett: "Last year, it was a lot. Coming in, they threw so much at me. This year though, having been here for a full year, I'm feeling way better about the terminology, playbook, things like that.
"Going against the first-team defense every day in practice – with all the good guys we have on defense – that made me better and got me prepared. And also watching on game day, that helped me to see how things are."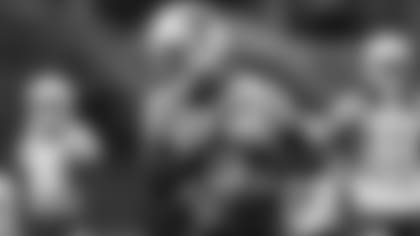 ON THEIR APPROACH TO THE OFFSEASON
Cash: "I was focused on gaining weight. I came in at 205 (as a rookie), and now I'm at 230. Last year, towards the end of the season I was at 215."
Garrett: "I worked out on my routes, on coming in and out of my breaks, things like that."
Cash: "It's still open competition, but I think our linebacking core as far as the starters is pretty solidified. I'm definitely trying to fight for a No. 2 spot, though."
Garrett: "The first goal is to make the 53. I just want to do whatever I can do to help the team win. That's really my goal."
ADVICE FOR THIS YEAR'S UNDRAFTED ROOKIES
Cash: "Know your role. The fastest way to make this team is through special teams. Try to get around the older guys as much as you can and try to know as many positions as you can. I know a lot is being thrown at them, but don't panic. Our coaches understand it's a lot to take in, and not everybody gets to start from Day One. So just take it day-by-day, don't get frustrated, and keep pounding."
Garrett: "Just give it all you've got. Don't take anything for granted. Give it everything you've got, and keep praying. Eventually everything will work out for you."
THOUGHTS NOW ON NOT BEING DRAFTED IN 2016
Cash: "At this point, it is what it is because I ultimately made the team last year. The coaches believed in me, and I believed in myself. They know I can play, so I'm just going out to continue to make my mark in this league."
Garrett: "It still does (serve as motivation). Even this year when I was watching the draft, it brought back a lot of memories. Yes, I'm still upset about it, but I'm not going to let it bring me down. There are plenty of guys who were undrafted that are doing great."