CHARLOTTE – Jerricho Cotchery has returned to the Panthers to serve as assistant wide receivers coach, a move that makes perfect sense for a variety of reasons.
Cotchery played 12 NFL seasons and his last two were with Carolina from 2014-15. He was a steadying influence in the wide receiver room. A trusted, savvy veteran who consistently secured tough catches from the slot and earned the nickname "Clutchery."
"Here's a guy who is very familiar with our guys, who was the quiet leader of that group," said head coach Ron Rivera after announcing the hire at the NFL Combine, adding that former assistant wide receivers coach Cam Turner will now assist Ken Dorsey with the quarterbacks.
"Also, he's experienced as a slot receiver, which is one of the positions we want to feature and highlight as we go forward."
After Ricky Proehl resigned from his post as wide receivers coach in January, Lance Taylor was brought in from Stanford to replace him, and Rivera called Cotchery to gauge his interest in coaching.
"When it came about, obviously with the history that I have with Carolina, it was definitely something that interested me," Cotchery said. "It was kind of a no-brainer."
Cotchery is an ideal mentor for young wide receivers and his experience in the slot should help the Panthers increase production from that area. Plus, he's already built relationships with young wideouts like Fozzy Whittaker and Devin Funchess. And as general manager Dave Gettleman said at his NFL Combine press conference, their games need to mature.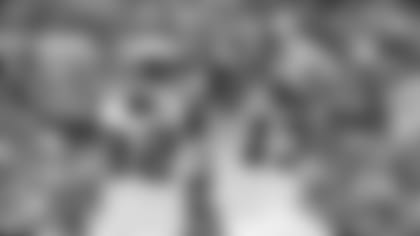 "I'm familiar with the guys in the room and I know some of their strengths and some of their weaknesses. I know their personalities and I understand them as men," Cotchery said. "I think that's something that served as an interest for the coaching staff."
And although Cotchery and Taylor didn't cross paths in Carolina, they worked together in New York. In 2010, Cotchery's final season with the Jets, Taylor was a coaching intern. Now they're working together to direct the Carolina wide receivers.
"I'm excited for him to get this opportunity," Cotchery said of Taylor. "I watched him work years back to get this chance. It's definitely cool to see that happen for him."
And like Taylor, Cotchery intends to use a lot of what Proehl taught him in his new role.
"I watched Ricky and the way he worked with the guys. He was an unbelievable coach. If you didn't learn anything from him, that's your fault," Cotchery said. "He was able to teach a veteran, and sometimes that can be difficult. He struck a perfect balance with me to help me get better. I learned a lot from him in two years."
Now, after a year away from football, Cotchery is back in the Carolina wide receiver room, eager to impart some wisdom and help the Panthers pass-catchers grow.
"I definitely missed the game. It's something I had been doing since age seven," Cotchery said. "I've always enjoyed seeing guys succeed on the field and off the field. Playing the game – I was done with that – but I've always had that interest in helping guys develop."
View photos of the wide receivers in action during the 2016 season.