CHARLOTTE - Jerricho Cotchery hasn't put on pads since he may or may not have made that controversial second-down catch in Super Bowl 50. But 17 months later, the soft-spoken wideout, who was unlike many of his outspoken peers, is now like many ex-players who feel they can still suit up.
"Walking out here smelling the grass, I feel like I could get a good curl route in," Cotchery said last month after walking off the Panthers' practice fields. "I think I'll always feel like that."
In keeping with his personality, Cotchery hasn't drawn much attention in the early stages of his post-playing career. Throughout Carolina's on-field spring practices, if you weren't looking for him, you may not have even noticed Coach Cotchery. You certainly wouldn't have heard him.
"He talks low all the time," Kelvin Benjamin said of his former teammate-turned-assistant receivers coach. "He talks to you real low-key."
Think about the prototypical football coach - all that yelling and screaming mixed in with rah-rah stuff. That's not Cotchery. But that doesn't mean his style is wrong.
"I'm not going to be yelling and stuff every play. But if I don't like something, I'll say it. I make sure they're aware of it," said Cotchery, whose 12-year career included 87 receptions and four touchdowns in two seasons with the Panthers.
Now living in the Lake Norman area with his wife and five adopted children, Cotchery spent last year completely disconnected from football. But soon after the Panthers hired Lance Taylor to replace head receivers coach Ricky Proehl in February, Cotchery got an offer to become Taylor's No. 2.
The Cotchery-Taylor reunion comes seven years after they first crossed paths with the Jets, who gave Taylor a shot as a coaching intern while Cotchery was playing his final season in New York. Now they form what Taylor describes as a "good cop, bad cop" situation. The calmer one is the good cop.
"We call him the 'Wideout Whisperer,'" said Taylor, revealing Cotchery's fantastic new nickname. "He's a man of few words, but they're very impactful. They're always powerful, and he commands respect."
"After my rookie year I was begging him and pleading with him to come back so he could help me out, learn the game, slow the game down," the third-year wideout said. "Now having him back, he can teach me even more because he doesn't have to worry about playing."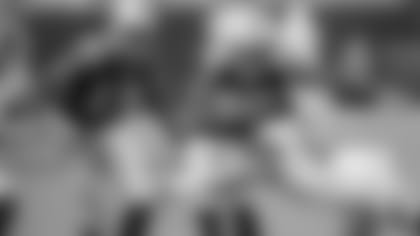 Back in March, when Ron Rivera announced the Cotchery hire, the head coach made the role sound somewhat specific:
"He's experienced as a slot receiver, which is one of the positions we want to feature and highlight as we go forward."
Sure, helping the Panthers become more dynamic in the slot with guys like Curtis Samuel, Christian McCaffrey and Damiere Byrd is a big part of the job. But perhaps more importantly, Cotchery could figure out how to unlock the untapped potential of Benjamin and Funchess.
"That their development process will be trending upward," Cotchery said when asked about his goals for the Panthers' two tall wideouts. "We want to get them moving in a direction that consistently stays there."
So even if he can't suit up anymore, Coach Cotchery has plenty on his plate.
"For as long as I can remember, I was just going to play and then coach afterward," he said.
"I think I'll always miss (playing). But you have to have in mind what you want to do and have a vision and what you want to do once you get there. That was my plan."
View photos of the wideouts on the roster entering training camp.