CHARLOTTE – When Carolina's 44-16 win over Washington went final, it meant the Panthers had improved to 10-0.
For defensive end Charles Johnson, it meant his season was finally going to begin again.
After Johnson suffered a hamstring injury during the Week 3 victory over New Orleans, the Panthers placed him on injured reserve/designated for return, ruling him out for at least eight weeks.
"That was very frustrating. At first, I didn't understand it," Johnson said. "But eventually I saw the bigger picture and understood."
The Panthers wanted to make sure Johnson, a nine-year veteran with 84 career starts and the unquestioned leader of the defensive line, was ready for the stretch run.
In the meantime, they addressed the pass rush by acquiring Jared Allen, the league's active leader in career sacks, in a trade with Chicago and counted on second-year defensive end Kony Ealy to rise to the challenge.
At 10-0 and second in the NFL with 31 sacks, it certainly appears the Panthers made the right decision.
"They knew what they were talking about," Johnson said with a laugh.
While the Panthers were piling up the wins, Johnson was watching from a unique perspective. He flew on his own to attend road games at Seattle and Tennessee. He would enter the stadium like any other fan, then make his way to field level to deliver a speech to the defense – a pregame tradition that's existed for several years. Once the game started, he was part fan, part coach as he watched from the sideline.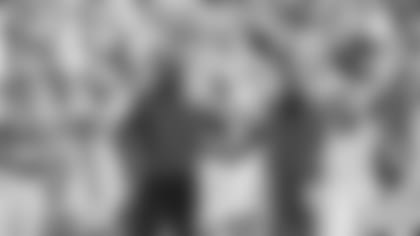 "I just wanted to support my guys," explained Johnson, voted team captain for the past two seasons. "I like being around my guys and I had the chance to do it.
"I've been along for the ride. I appreciate it more, with me being on the outside. It was a good experience to support my team just like the fans."
But Johnson is ready to return to his more familiar role on game day. Head coach Ron Rivera said the team plans to activate him on Tuesday, ending his stint on injured reserve.
"It's been a long time," Johnson said. "I'm really amped to get back out there. I'm nervous and anxious all at the same time to go out there and do something."
Johnson said the prolonged absence is the source of his nerves. He's a perfectionist who thrives on repetition and practice and he knows there will be an adjustment period when he takes the field again.
He's not concerned about his role or snap count. He just wants to return to the level he's come to expect of himself and make the defensive line rotation even deeper.
"I'm coming in humble," Johnson said. "We have a lot of talent on our D-line and I'm just trying to be another piece of that. I'm not coming in with the attitude to try and go crazy. I'm going to work my way back into it, work my way back to where I want to be. Whatever my role is I am going to max it out."
Said Rivera: "It's going to be interesting, it really is. I think Charles is going to add to what we want to do and how we want to do it. It's been a good pace for us – our guys have played very well – and having him back in the fold should mean some very good things for us.
"As we go forward through this stretch, we want to have our best players available. It's good to see him out there. Now we'll have to mix it up and see what the best combination of guys for us is as we move forward."
It's an ideal situation for the Panthers, who are adding a player with 63.5 career sacks, the second most in team history, to a lineup that is undefeated entering Week 12 and firing on all cylinders.
"These guys have worked for it," Johnson said. "Guys are building chemistry, and the communication has been amazing. It's not a coincidence those guys are 10-0. People are doing the little things to get this team where they want to be."
And Johnson is ready to help get them there.