CHARLOTTE – For four seasons, Jon Beason ranked among the most productive linebackers in the NFL.
Injuries, the emergence of Luke Kuechly and the reemergence of Thomas Davis slowed the roll of the Panthers' 2007 first-round draft choice, but he believed he could recapture his form if he could play more snaps.
Beason got that chance early in the 2013 season, when the Panthers traded him to the New York Giants.
What Beason never really got was the chance to say goodbye.
"This is my first time back since literally the day I found out I was getting traded," said Beason, who attended Carolina's organized team activity Thursday. "I didn't get the opportunity to see anybody or talk to a lot of guys because you get traded, you pack a suitcase and you're gone the next day.
"But this was a good time to come back. It's a good feeling. It's nice to see that a lot of things haven't changed – the smell of the grass, the talk in the locker room."
Beason, who retired two years ago after three injury-filled seasons with the Giants, was a strong voice with a game to match throughout his time with the Panthers. He recorded an astounding 650 tackles based on coaches' film review over his first four seasons (Kuechly had 681 over his first four) and ranked in the top four in the entire league in tackles each of his first three seasons.
But in the opener his fifth season, in 2011, Beason tore his Achilles.
He was never quite the same player. Shoulder and knee injuries sidelined him four games into 2012 - Kuechly's rookie year – and he played 21 games over his final three NFL seasons, all but three of them with the Giants to wrap up a nine-year career.
"The fact that I was able to play for the amount of time I was, thank God for those moments," said Beason, now 33. "At the NFL Combine in 2007, a lot of teams asked me, 'Hey, how long do you think you're going to play?' I said eight years. They'd say, 'Oh, everybody says they're going to play 15 years. Why eight?'
"I said, 'If you play linebacker the way you're supposed to play it, you probably won't last longer than eight years.' That's something I hang my hat on. Whether it was how I played, how I prepared or how I attacked my rehab, I left it all on the field. I have no regrets. I sleep well. I don't even dream about it anymore."
That makes what Davis is doing even more remarkable in Beason's mind.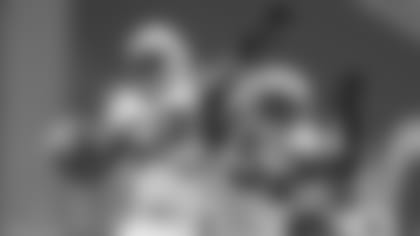 The two were always there for each other – with lockers next door - before and after the injury bug struck. The week after Beason tore his Achilles in the 2011 season opener, Davis suffered his third torn anterior cruciate ligament in less than two calendar years.
In 2012, Davis made a successful return in the form of a 100-tackle season – the first of five consecutive such seasons. In 2013, when Beason was traded after playing three games, he couldn't stay on the field because Davis and Kuechly almost never came off the field and the Panthers often opted for two-linebacker looks.
Now Davis is entering his 14th NFL season.
"It's really amazing. There hasn't been a letdown in the level he plays at, the intensity that he plays with. It's unrivaled," Beason said. "He is a very, very special player and a special dude. Everyone in Charlotte knows him now, and he's an open book, he is as advertised.
"I tell him this all the time – and Luke would probably admit this, too – when Thomas was next to me, my job was a lot easier. I looked a lot better. He brings so much to the table. He has a very special skill set."
Beason has a similar appreciation for Kuechly.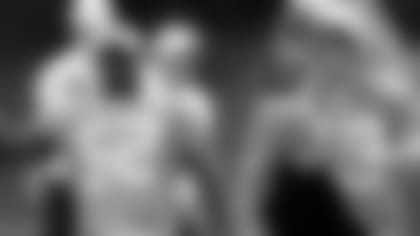 Selected in the first round of the 2012 draft when the Panthers already appeared set at linebacker, Kuechly started on the outside his first four games but then took over in the middle when Beason went on IR for the second consecutive season. Kuechly never looked back, going on to win NFL Defensive Rookie of the Year in 2012 and NFL Defensive Player of the Year in 2013.
That's strikingly similar to the start of Beason's career in 2007. After starting on the outside his first four games, Beason took over in the middle for injured tackling machine Dan Morgan and finished third in the NFL in tackles. Beason remained in the middle until Kuechly and Beason's own injury concerns came along.
"Luke and I became the starting 'Mike' linebacker the same game in our rookie year. I was transitioning behind Dan Morgan, and then Luke was the successor behind me. Marty Hurney, hey buddy, you did it right at that position – a great one, a great one, a great one," Beason said. "Luke's career has not shocked me one bit. He came in obviously highly drafted, and his attention to detail, ability to go on the field and process information is faster than anybody. The best part of his game is him just dissecting the play, making a decision and going.
"When I was injured, being on IR and being in the meeting room watching film and watching games, I kind of lived vicariously through him, hanging on every play."
Beason spent the last two seasons as an NFL analyst for CBSSports.com, headquartered near the University of Miami campus where Beason first burst onto the scene. He calls the area home and is enjoying retirement spending quality time with his 2-year-old daughter.
He made plenty of memories in Charlotte, but before this week's visit his only active tie to the area was his ownership stake in Sip Bar and Cellar uptown. But after one phone call, he has another reason to visit.
"I was on the phone with Coach (Eric) Washington recently, congratulating him," Beason said of the Panthers' first-year defensive coordinator who coached defensive line for Beason's final two-plus seasons in Carolina. "And he was like, 'Man, come back.' I said, 'You know what? I'm going to do that.' So we figured out a time, and I talked to Coach (Ron) Rivera about it. Here I am.
"I just want to be with the guys, see the guys, maybe talk a little trash, hang out. It's fun."
View photos of former Panthers linebacker Jon Beason.