LANDOVER, Md. – Even after seeming to dominate the entire game, the Panthers took possession with about four minutes left Monday night needing a first down or two to prevent Washington from having a chance to pull even.
With one play, running back Jonathan Stewart and his offensive line put any concerns of a collapse to rest on a night when they refused to let the Redskins defense rest.
"It feels great to wear a defense down," said Stewart, whose 34-yard jaunt all but sealed Carolina's 26-15 triumph on Monday Night Football. "You can feel an opponent getting weaker and weaker as the game goes on, and you could feel our offensive line getting after it at the line of scrimmage."
The run put Stewart over the 100-yard mark for the first time this season. He finished with a season-high 132 yards on 25 carries, the fifth-highest rushing total of his standout career.
Simply put, Stewart was physically punishing. And there were no signs that he was the one not feeling his best physically leading up to the game.
"He wasn't in his best health this week," quarterback Cam Newton said. "The trainers did an unbelievable just of getting him on the field, and for him to perform like that – that's the kind of thing we're going to need from him going forward. He's a professional, and that type of run game sets the tone."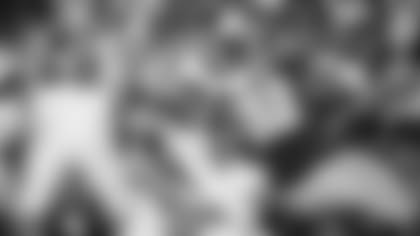 Stewart didn't simply finish with a flourish; he flourished throughout.
The first offensive snap of the game, a 5-yard run with oomph, told of things to come. That drive produced the first of four Graham Gano field goals, and later in the quarter Carolina's first touchdown drive began with runs of 7 and 15 yards by Stewart.
"The O-line takes a lot of pride in every single yard he gets," left tackle Mike Remmers said. "Seeing him going in there and running his heart out, that makes everybody block harder. We appreciate everything that he does."
And Stewart appreciates what the offensive line does. Remmers is a regular relatively speaking at this point along a front without two of its Week 1 starters and featuring just one player – right guard Andrew Norwell – in the same spot he was in Week 1.
The good news, though, is that while some guys are playing out of position and one – center Tyler Larsen – is playing in the NFL for the first time, this marked the third consecutive week of continuity for the group.
"We've had guys injured, and so we've had guys in there having to learn the offense," Stewart said. "They've learned to gel, and it's all about chemistry. Tonight it showed."
Stewart's signature run Monday wasn't his longest, but it gave him back-to-back weeks with highlight-reel worthy plays. Early in the second quarter, he started out left but was met in the backfield so he shifted right, first leaping former teammate Josh Norman and then quickly changing gears to power through a couple of tacklers for a couple of more yards to gain 11 all told.
The run came a week after Stewart turned heads when he flipped onto his helmet but didn't go down, getting back up to double the length of his 20-yard run.
Both plays were notable, but what was more notable to Stewart is that both plays came in victories.
"The season didn't go the way we wanted it to, but we've got two games left and our mindset is to win games," Stewart said. "That's all we can do – just do our job and make sure we end the season right."