CHARLOTTE – As Jordan Gross walked into Wednesday's press conference at Bank of America announcing his retirement from the NFL after 11 seasons with the Carolina Panthers, he joked about how such affairs can feel like funerals.
"Shh," Gross said in the direction of several teammates as he took a seat. "Make sure it's as somber as possible."
Moments later, when Gross took to the podium, he understood firsthand why such occasions seem so somber. But in Gross' case, the tears that almost immediately welled up didn't signal a sad farewell.
They were more of a sentimental see-you-later.
"Tears of joy," Gross said. "It's been everything I thought it would be and more. I'm so happy."
Gross, the Panthers' longtime left tackle, said he knew all of last season that he planned to retire, but he doesn't plan to go very far.
"I love this organization, and I don't want to walk away from the building," Gross said. "I've got to go talk to the team about what my next title will be here. It's a little bit to be determined still.
"I'm retiring from this job, but I'm just moving onto something else."
Now the team will try to move on without him, something Gross believes they're well-equipped to do. That's one of any number of reasons why he believed now was the optimal time to call it a career.
"I knew for me to do my job and do it well, I needed to be 100 percent committed and 100 percent into everything physically, emotionally, mentally that it took," Gross said. "I wasn't up for that anymore, so it was time to go. I have too much respect for the game to do it any other way.
"The team wanted me back, but they were so great when I said I was done. That meant a lot. I've always said I didn't want to leave until I thought things were in good order, and they are. This team is going to be good for a long time."
Wednesday's emotional gathering put an exclamation point on the mutual feelings of love and respect between Gross and employees throughout the organization, but almost lost in it was what Gross did between the white lines.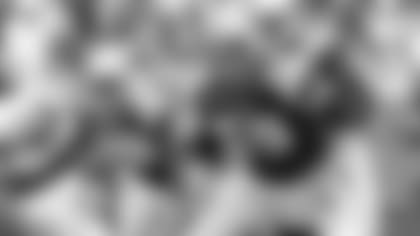 A Pro Bowler in two of his final four seasons as well as 2008, Gross started a franchise record 167 games between the two tackle spots, including 118 at left tackle - considered by many to be the second-most important position in the NFL behind quarterback.
Gross started every game as a rookie in 2003 at right tackle and helped the Panthers advance to Super Bowl XXXVIII, and he ended his career by starting every game at left tackle and helping the Panthers advance to the playoffs for the first time since 2008. Over his 11 seasons, Carolina made four of the five playoff appearances in franchise history.
"When you game plan and you don't have to worry about always making sure there is somebody to his side, it helps the offense - it really, truly does," head coach Ron Rivera said. "He was that person that led by example. That's huge and difficult to replace."
Added guard Travelle Wharton: "He was so consistent in his technique and the way he worked. I remember the big games and how you wouldn't hear from the defensive end lined up against him all game. He took pride in his craft."
Gross was introduced Wednesday by Rivera and Owner/Founder Jerry Richardson, who heaped praise on Carolina's eighth overall pick in the 2003 NFL Draft from the University of Utah.
"As an owner, you hope with a first-round draft pick that you will get a player that will become a starter, hopefully have a long career, produce at a very high level, and given how competitive and physical our game is, that they'll have a limited number of injuries," Richardson said. "Jordan, of course, meets all those criteria."
"I've only been in Mr. Richardson's office twice – today and the first day I got here," Gross said. "When I got here, he said, 'I expect you to play hard and be a good person and be a part of the community.'
"Really, I just did what I was paid to do this whole time."
But Gross did it with his own flair, a fact that shone through one last time Wednesday. There were tears to fight back but laughter also throughout, with Gross completing his press conference with a 22-picture slide show from his first moment as a Panther to his last.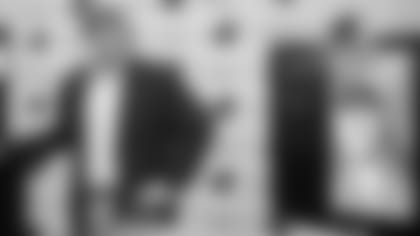 • Gross started with a picture of his introductory press conference in Charlotte the day he was drafted in 2003, saying he looked like "Chubby Dracula."
• He followed with a picture from that same day alongside John Fox, his head coach for eight seasons and a close friend to this day. "He said he wanted smart and tough players. Luckily, I could do those two things," Gross said. "His message never changed while he was here."
• Next came a photo from the season opener of Gross' rookie year. "The first play of the game, I missed my block and fell down. I thought, 'I'm a bust for sure."
• He obviously wasn't a bust, thanks in part to a forceful helping hand from Julius Peppers, a disruptive defensive end with the Panthers for each of Gross' first seven seasons. "This guy is like my worst nightmare – seven years in a row of being his practice dummy, which will either make you or break you. I had to look through all of the Panthers' archives to find one picture where it looked like I was winning."
• On Jake Delhomme, the Panthers' starting quarterback for Gross' first seven seasons: "Then there's this idiot. Jake taught me how to have fun. It was all about believing in yourself and doing what you need to do to win. It didn't matter who got the credit."
• On wide receiver Steve Smith, who played with Gross for two seasons at Utah and each his 11 in Carolina: "Steve and I have been teammates for 13 years, going back to college. He's an interesting person but means a lot to me. He taught me what it means to fight and play with your heart."
• On a locker room photo of Gross, some of his offensive line mates and quarterback Cam Newton following the 2013 regular season finale at Atlanta: "This is my proudest moment as a Panther. NFC South champs and back in the playoffs – kind of coming full circle. That kid (Newton) in the front, I hope I did something to help him progress. He's the real future."
The final two images provided the perfect mix of tears and tickles. After Gross earlier showed a picture of the offensive line his rookie year (two members - Kevin Donnalley and Jeff Mitchell - were in attendance), he featured a shot of longtime teammates Travelle Wharton, Geoff Hangartner and Ryan Kalil.
"Travelle was my carpool buddy. We'd figure out the world's problems to and from the stadium, and we'd wager bets on who had to drive the next day. Some of the best times of my career were in that car," Gross said. "Hangartner flew back to Texas just to be here. He went to Hawaii to watch me in the Pro Bowl and held an umbrella over my son's head so he wouldn't get sunburned. I was a groomsman in his wedding. He's one of my best friends in the world.
"Ryan is like the one guy that I claim I really helped. If it wasn't for me, he'd be terrible. No, he's good on his own. We saw things eye to eye. He said I need to get a job in the building so he can just pretend like I'm on IR and just hang out with me."
And finally, Gross concluded with a photo of his family right after the Pro Bowl last month, proudly flanked by his wife, Dana, and children, Teddy and Rainey.
"That's how everyone would dream their career would end up being, right there. That's why you live, right there," Gross said. "That picture says it all."