ATLANTA – The Falcons and their top-ranked offense made their intentions against the Panthers clear from the start.
Quarterback Matt Ryan was going to target wide receiver Julio Jones early and often.
"They threw the ball to their guy and got things rolling," cornerback Bene Benwikere said.
And once they got rolling, they never stopped. When all was said and done, Ryan passed for 503 yards and Jones finished with 300 yards receiving – both single-game records against the Panthers.
"It unraveled for us," Benwikere said. "Everything we planned, everything we wanted to do just didn't work for us."
Atlanta's first three plays featured Jones, and Ryan connected with him for gains of 22, 14 and 15 yards to set up the game's first touchdown.
Rookie cornerback James Bradberry, who was expecting to spend most of the afternoon covering Jones, injured his big toe early on and didn't return until the fourth quarter.
"I couldn't go full speed on it like I wanted to," Bradberry said. "It hurt not being out there to make a play and help my team."
Bradberry was forced to watch as Ryan and Jones combined for their record-setting performance.
At halftime, Jones accounted for 170 of Ryan's 222 passing yards as the Falcons built a 17-10 lead.
The aerial assault continued with long touchdown strikes in the second half.
And when Carolina cut the deficit to eight late in the game, it was Jones who provided the immediate answer.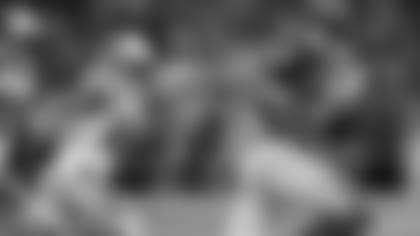 On the first play of the series, Ryan connected with Jones over the middle, and the star receiver did the rest, racing past the Carolina secondary for a 75-yard touchdown.
Head coach Ron Rivera said the plan for defending Jones was simple: "Cover him."
"We tried to cover him. It didn't work," Rivera said. "They did some good things and made some big plays."
The secondary struggled to stick with Jones downfield, but Rivera expressed the need for more pressure up front. Far too often, Ryan had ample time to locate a target for big gains, whether it was first-and-10 or third-and-long.
"We have to get more pressure," defensive end Charles Johnson said. "We'll take ownership of that."
For a defense that holds itself to the highest of standards, the overall performance was stunning. But the standard hasn't changed after one difficult Sunday.
"They're a good offense for a reason," linebacker Luke Kuechly said. "Our guys are going to rebound from this. We've got a real resilient bunch. We take a lot of pride in what we do and this whole defense is going to come out better next week."
View game action photos from Carolina's 48-33 loss to Atlanta.