CHARLOTTE – Being the last one to run out of the tunnel is a bit of an honor that has lately been reserved for the two faces of the franchise.
When the offensive starters are introduced individually, quarterback Cam Newton is the last name called. When the defensive starters are introduced individually, linebacker Luke Kuechly is usually the last name called.
But Luke wasn't last Sunday for the home opener against Buffalo. He insisted that honor go to someone else; someone who doesn't even start.
"Luke was nice enough to let me go out last today," defensive end Julius Peppers said. "I thank him for that."
This was Peppers' first regular season home game as a Panther since 2009. So in Kuechly's mind, it was a no-brainer to let Peppers and the fan base savor the moment.
"It's Julius Peppers man! I think it's great to have him back on our team," Kuechly said. "He deserves that with everything he's brought to this franchise."
It was only a few seconds, but Peppers made them count after he emerged from the fog, standing still with his arms crossed (in that imposing way he's known for) before pointing to the crowd and trotting out.
"It was cool. It was a nice reception. I thought the fans enjoyed it. I enjoyed it," Peppers said. "So yeah, it was a special moment."
Then Peppers got back to doing what he does best – making life miserable for quarterbacks. He finished with two sacks and six tackles, helping Carolina limit the Bills to just 176 total yards in the 9-3 victory.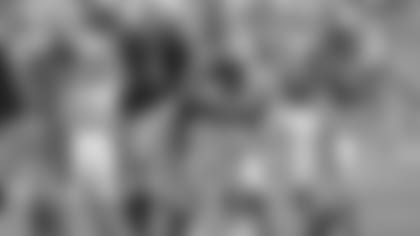 "Pep was awesome," head coach Ron Rivera said. "I think he has kind of found a niche here with us, the way we rotate our guys and try to keep them fresh."
Added Kuechly: "He's in Year 16, but he's not slowing down. I don't know how he does it."
Peppers was modest afterward when the media surrounded and peppered him with questions about his big day.
"The weather is nice out here. It's a little warm, so the muscles get loose a little better. Grass is nice. I thought it was nice," he said with that wide smile. "We all rushed well together, and I was the beneficiary today."
This is what Peppers does. The years go by, but the nine-time Pro Bowler with 146 career sacks hasn't lost his pass-rushing prowess.
"He's everything we expected him to be," Kuechly said.
With Peppers added to the mix, people wondered how good this defense could be. Through two weeks it's been as good as advertised.
After shutting down the Bills, Peppers had this to say: "This is the best defense I've ever played on."
That's quite a statement from a coming 16-year veteran, even if it was something he hadn't put all that much thought into.
"Don't take that literal, because I don't have all the stats for every defense I've played on," Peppers said. "I feel good about this group. In my eyes, I'm a part of this defense, and it's the best.
"I have all the confidence, trust and belief in these guys. We all play for one another. I feel like the sky is the limit."
That quote – like the sound of No. 90 being introduced at Bank of America Stadium once again – ought to sound like music to Panthers fans' ears.