CHARLOTTE – They sound like the words of a rookie, but they most certainly are not.
"It's been a good start, but there's a lot of football left to play. I'm just going to continue to grow, continue to get better."
That perspective was shared Tuesday by defensive end Julius Peppers, the Panthers' 37-year old defensive end who is running around and making plays much like he did as a rookie – in 2002.
That year, Peppers recorded 12 sacks in 12 games, the only time in his Hall of Fame career that he's averaged a sack a game – until now. Through six games, he has 6.5 sacks to rank fifth in the NFL this season and bring his career total to 150 – fifth in NFL history.
"It's just one of those things where sacks happen," Peppers said. "You can try, do your best and do everything right but still not get sacks. Then sometimes you can get sacks that fall into your lap.
"There are going to be times when I don't get sacks but other guys are going to have two- and three-sack games. We all try to help each other. It's not just me; it's the whole group that's allowing me to have this production."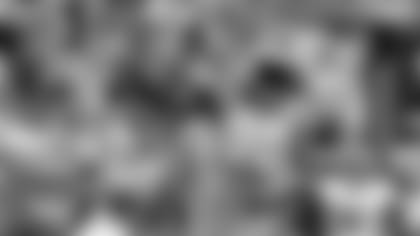 A less-is-more approach is also helping the cause. After taking lots of practice time off during his first training camp with the Panthers since 2009, Peppers fully participated in the week of practice leading up to the season opener. Since then, he's sat out half of the team's practices – practicing seven times, not practicing seven times and limiting his work once.
"Just do less – really, it's that simple," Peppers said. "You're not able to go as hard and have as much energy at this point as you did when you were 20 years old. Just do less and try to stay sharp.
"It's a good situation. I'm able to rest up, get healthy during the week, and then they're finding those situations in the game for me to come in. Right now it's working."
Peppers has played 60 percent of the Panthers' defensive snaps this season, helping him give 100 percent effort. It paid off early in Carolina's last game, when his strip-sack early against the Eagles gave him 48 career forced fumbles – second most in the NFL since 2000 (Robert Mathis, 52) – and set him up to stand alone as the lone player in league history with 150 sacks and 10 or more interceptions (11).
Next up for Peppers is a trip to Chicago – where he played for four seasons on the heels of his first eight seasons in Carolina – to face some familiar faces. Bears coach John Fox was the Panthers' head coach throughout Peppers' first stint, and Fox's offense is headed by rookie quarterback Mitch Trubisky – a product like Peppers of the University of North Carolina.
"I have some great memories from there, some great relationships," Peppers said. "Try to disrupt and pressure the quarterback - it's no different this week."