EAST RUTHERFORD, N.J. – Ron Rivera didn't have a game ball to give away, but he did know who he wanted to break down the huddle in the victorious Panthers' locker room.  
It wasn't a guy anyone would have expected before Sunday.  
"It was special," said Rivera's choice, wideout Kaelin Clay. "Especially for the journey I've been on." 
The latest path on Clay's road was a 60-yard punt return that gave Carolina the deciding points in a back-and-forth second half against the Jets. It was the Panthers' first punt return touchdown since Philly Brown's wild muff-turned-score against the Bears on Oct. 5, 2014. Clay's second career touchdown came nearly two years to the day of his first, an 82-yard punt return for the Ravens in a Monday Night Football win over the Browns.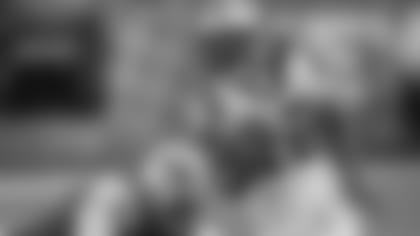 "I pulled out a crazy spin move that I hardly ever use," said Clay, describing how he pulled off the Panthers' biggest special teams play of the season. "I hit the spin move and it felt so slow, and as soon as I came out of it I kind of came to a standstill. Then I saw nobody was there and I said, 'I know nobody's going to catch me if I take off.'" 
After scooting past diving Jets punter Lac Edwards, all Clay had to do was enjoy an easy 35-yard sprint. It was a nice change for someone who's rarely had it easy. 
"I grew up in a tough environment and people have always quit on me," said Clay, a Long Beach, Calif. native.  
"Schools, teams, coaches – I've always been on the backburner. I've always been overlooked. I've always been in the dirt. I always have to climb my way to the top."  
After a stint in junior college at Mt. San Antonio, Clay eventually transferred to Utah where he became an All-America returner in 2014. Those skills attracted the Buccaneers, who took him in the sixth round of the 2015 draft. But he was released in final cuts and has since made stops in four other NFL cities. Five if you count his two stints in Carolina.  
Hours after Clay made Carolina's 53-man roster this summer, he was traded to the Bills for cornerback Kevon Seymour. So when Buffalo cut Clay last month, the speed-needy Panthers were ready to pounce.  
As if the life as an NFL nomad wasn't hard enough, Clay's girlfriend delivered their first child, Kennedy, on Oct. 7 – while Clay was on the Bills' plane as they headed to play Cincinnati.  
Seven weeks and a day after missing that moment, Clay was at least able to create a unique memory.  
"I had talked to my daughter before the game and I told her I'd score a touchdown for her," he said. "That was the first time I talked to her before a game, so maybe it'll become a tradition." 
As Clay shared that story, the game ball he eventually received from a team staff member sat in his locker. Its final destination wasn't hard to figure out.  
"This is going in Kennedy's room," Clay said. "This was for her."