SPARTANBURG, S.C. – This time last year, with change happening all around him, center Ryan Kalil served as the anchor for a wind-swept ship.
But the winds of change eventually subsided, and now Kalil begins training camp this year as the anchor of a sturdier ship.
"I think we're in a lot better place this year than we were last year," Kalil said. "A lot of that has to do with experience.
"I think the biggest part about pro football for any position is confidence. If you can get some games under your belt and play well, you can build off of that."
Head coach Ron Rivera is certainly confident about the group headed by Kalil, a four-time Pro Bowler, saying after the Panthers' first practice of camp Friday that he views the starting offensive line as "settled."
This time last year, Kalil was the only truly settled piece of the puzzle, and injuries and inconsistent play around him made things even more turbulent. Late in the regular season, however, the Panthers hit on a starting combination that worked, with rookies Trai Turner and Andrew Norwell flanking Kalil at guard and with Byron Bell and late addition Mike Remmers lining up at tackle.
Kalil, Turner, Norwell and Remmers are back this season, with veteran Michael Oher joining the crew and filling the always crucial left tackle role.
"I've always been a big fan of Michael Oher, and now getting to know him as a person, I'm a bigger fan," Kalil said. "I've seen how he works and how important the game is to him and how he wants to do well for this team.
"That's good for our group and for our football team as well. Those kind of personalities are contagious."
No doubt the approach taken day after day by Kalil and Oher is rubbing off on Turner – a third-round draft pick in 2014 – and Norwell, an undrafted rookie in 2014.
"They're still working, still trying to get better, and that's a good thing," Kalil said. "Those two guys are really good players, and they still have a lot of room to grow."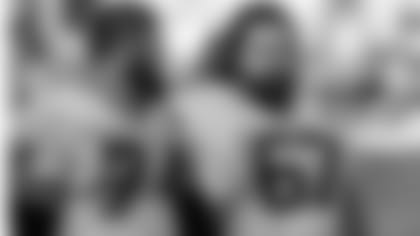 Remmers, who really shored up the right side after the Panthers signed him off the St. Louis Rams practice squad, has been working closely with Kalil of late. During the offseason training program, he took some snaps at center.
"It's tough, but Mike has done a good job," Kalil said. "The hardest thing is the snap and footwork, doing those things together. Other than that, it's a lot easier than tackle. I won't tell that to Gross – I've told him for years that center is harder than tackle."
Kalil was of course referring to Jordan Gross, the Panthers' longtime left tackle who retired prior to last season. Kalil might begrudgingly admit the center position isn't as hard as tackle, but being in the center of the changes last season set in motion by Gross' retirement certainly wasn't easy.
The journey isn't over, either, but the ship certainly has steadied.
"Where we are now versus where we were last year is a huge difference," Kalil said. "A big part of that is where we started last year as far as a lot of new guys learning the offense. We're not getting ahead of ourselves – we're still getting back to fundamentals and the basics of our offense – but at the same time we can do a lot more advanced things because of the group we have."