CHARLOTTE – When a veteran leader like center Ryan Kalil signs a contract extension, it conjures up thoughts of a humble beginning and an inevitable end to a fantastic career.
In the beginning back in 2007, Kalil came to Carolina as a highly regarded second-round pick from Southern California. He kept his head down and went to work, believing the rest would take care of itself.
"Everybody kind of dreams of having a long career, but very few get to do it," Kalil said moments after signing a two-year contract extension. "I just tried to stick around the older guys who had been here a long time and figure it out. The common theme I got a lot was that it goes by fast, and it sure does."
Kalil played in just five games as a rookie. Oddly enough, he started two of them at guard.
Now he's entering his 10th season as one of the league's premier centers – a five-time Pro Bowler and three-time All-Pro – and one of Carolina's most respected and effective leaders.
"I don't think anybody ever wants to think about the end," Kalil said. "I've still got a lot of good football left in me, but I'm definitely closer to the end than the beginning."
The two-year extension allows Kalil to finish his career where he started, a special accomplishment few get to experience. He's not ready for the end, but he's thrilled to know it will be in Carolina.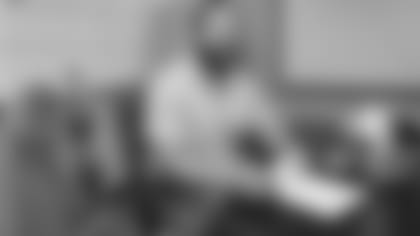 "This team, this franchise, it's part of my family," Kalil said. "I'm blessed to be able to finish my career here. I couldn't ask for anything more."
The contract expires following the 2018 season, at which point Kalil will be 33 years old.
"I'm not really thinking about (retirement), it's still down the line," he said. "This is a very taxing game physically and mentally. It's different for everybody. I'm probably someone that is going to empty the tank and then walk away. We'll keep rolling till the wheels fall off."
It's a process that all athletes must go through, and it's one Kalil has always been ready for. With each passing year he assesses his offseason plan and makes necessary adjustments to stay at the top of his game.
"It's about figuring out the routine that allows you to be successful," Kalil said. "I've molded it over the years. I've changed my offseason workouts to find a way to stay young and stay in peak shape. I'll continue to do that until the end."
In the meantime, Kalil will anchor the Panthers offensive line as he's done for years. And everyone in the locker room will know what to expect from No. 67 each time they take the field.
"Most importantly, I just want to make sure I don't let my teammates down," Kalil said. "I have to keep figuring out ways to help our group win."
View photos of center Ryan Kalil throughout his NFL career.