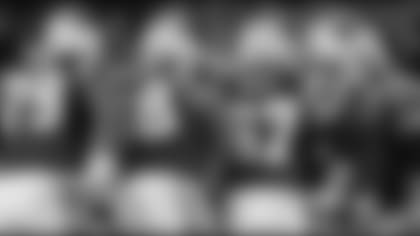 CHARLOTTE -- So it's quiet.  So what?
Even last year, the Panthers were relatively tranquil at this juncture of the offseason.  Of the eight unrestricted free agents signed in 2008, only one had been a full-time starter the previous season: linebacker Landon Johnson.  The other full-time starter procured in the offseason was wide receiver Muhsin Muhammad, but he was a street free agent after being released by the Chicago Bears in February and signed by the Panthers on Feb. 27, two days before the signing period began.
The emphasis on re-signing players has been a common thread tying together the majority of last year's playoff participants, a group that has collectively shown that the best move so far is to stand pat as much as possible -- with Carolina's efforts being assisted by moves that kept every player who started at least nine games last year in the fold.
... Only three of 12 playoff teams have imported more players than they have re-signed -- Baltimore, Philadelphia and the New York Giants.  These teams have combined for nine players signed via street or unrestricted free agency from other teams; the other nine playoff participants have combined to bring in just seven new players -- an average of 0.78 new acquisitions per team.
... While the 12 postseason teams have combined for 16 new signings among them, they have also collectively re-signed 30 of their players -- an average of 2.5 per team.  This is actually comparable to the 20 non-playoff teams, who have on averaged re-signed 2.35 re-signings per club.
... The primary difference comes in the addition of new players.  Last year's playoff teams have averaged just 1.3 new signings; the non-playoff teams have brought in 2.55 imports.  The Denver Broncos alone have inked more newcomers than the entire NFC playoff field put together, their 11 signings outdoes last year's NFC postseason participants by two.
... Carolina is among six playoff teams from last year that has yet to add any veteran newcomers in free agency, along with Atlanta, Indianapolis, Minnesota, Pittsburgh and San Diego.  Those teams have still been fairly busy, as this offseason they have combined to re-sign 15 of their own players -- a tally that doesn't include the contract extensions the Panthers sealed with kicker John Kasay and cornerback Chris Gamble last October and November, respectively, thus keeping them off the market.
... Those six teams are the only ones not to sign a player from another team through the first week of free agency, although the Vikings did work the trade route for quarterback Sage Rosenfels ...
... With Gamble and Jordan Gross re-signed and a franchise tag affixed to defensive end Julius Peppers, the Panthers did not have one player on the open market who started more than half of their games last year.  Among players who were released or left via free agency, guard/center Geoff Hangartner started exactly half of the games in 2008; tackle/guard Jeremy Bridges started four; wide receiver D.J. Hackett two and tackle Frank Omiyale made one start.
Editor's note: Statistics accurate as of publication time on March 7.