Comments from wide receiver Kelvin Benjamin following his second on-field workout of organized team activities.
On if he was gun shy at all about making cuts while running: Not at all. I try not to baby it. I try to go hard. Whatever the route is, I try to trust in the process that we have been doing, the rehabbing. So I just go ahead and make that plant.
On how good it felt to be out at practice again with his teammates: Great. It is great to get back out here. It still sucks that I can't be in doing the plays and competing, but it still feels good to be out.
On if it is tough to be at practice but not be able to participate in all of the drills: Yeah. But I still know I've got a lot to improve on. We are taking it slow, and I am feeling good about it. I can't wait to get to training camp.
On if he is going to wear a knee brace: They recommended one, but I feel good without it. I think a brace would be a mind thing, so I just wanted to go without.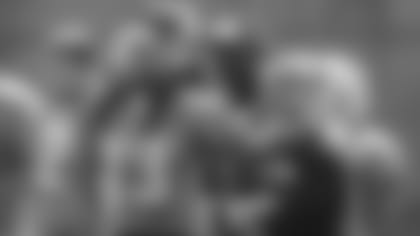 On if he is past the point of thinking about his knee when he is on the field: Yeah. I am going full speed on it. You can't really hold back. If it gives out, it gives out. I just trust in the rehab that we did and I feel good about it.
On his conditioning: I am not where I want to be but I am getting there, just getting that football wind back.
On trusting the rehab process and feeling good mentally: We came out multiple days without any cameras. You just take it slow and then you build up. You basically come out and walk some routes and then you start jogging and then you go full speed eventually. It's just trusting it and building confidence.
On joining the number-ranked scoring offense in the NFL last season: We can't count eggs before they hatch. I think it will definitely be good having me back. We are going to pick up where we left off. Guys played tremendous (last year) - Ted (Ginn), (Devin) Funchess, Philly (Brown), all those guys. They were a big part of this last year. I want to come back in and be a part of it.