CHARLOTTE – A little more than two weeks ago, rookie A.J. Klein got his first NFL practice rep at weakside linebacker, or "WILL" as players typically call it.
Last Sunday at San Francisco, Klein showed that where there's a will, there's a way.
Klein made his first career start with Chase Blackburn limited by a foot injury and responded with six tackles, second only to middle linebacker Luke Kuechly. He could well get the call again on Monday Night Football when the Panthers host the New England Patriots.
"I didn't practice at WILL at all during camp. I was at SAM and MIKE, so when I went to WILL, I knew what to do but didn't really know it," Klein said. "The first series wasn't my greatest series, but I think that just goes with getting in there and getting my feet wet.
"After that I settled down – my nerves calmed down – and I just got back to playing football."
Klein began to get his feet under him on the 49ers' second drive, when he stuffed rugged running back Frank Gore on a third-and-1 short of the sticks. He followed with his first career sack early in the second quarter.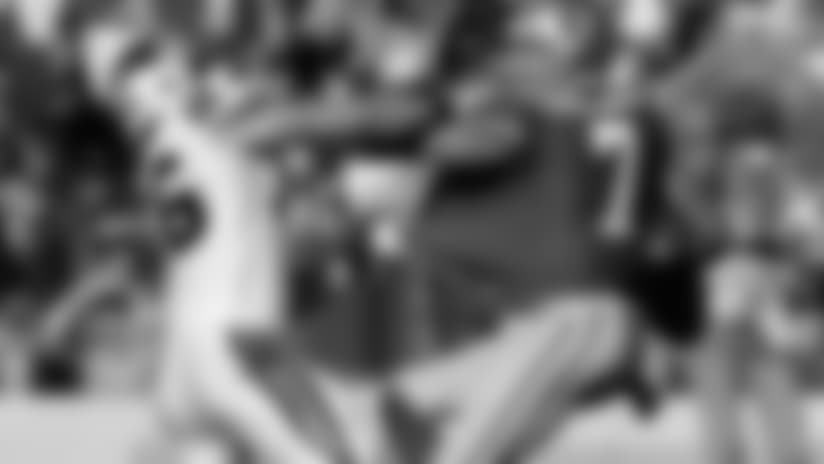 "I think I played well and made plays when I had to, but looking back on film I missed a lot of plays I should have made," Klein said. "I didn't get off blocks well enough, and there were a couple of things in coverage where I wasn't quick enough to where I was supposed to be. That will come with repping the plays and understanding the formations.
"I'm looking to improve on getting off blocks, getting downfield and making tackles that I should be making because I'm in the right position. I don't want to be out of position."
Klein started focusing on a new position in the days following the Panthers' victory at Tampa Bay in Week 8. Blackburn was limited in practice leading up to the Week 9 game versus Atlanta, so Klein took his first reps at WILL since he moved there for the second half of his senior season at Iowa State.
Those were also his first practice reps at linebacker since the start of the regular season.
"All year long doing special teams and scout team, I tried to soak up as much as I could, but it's tough to stay in the game mentally when you're not in it physically, when you're not getting the reps in practice," Klein said. "But I had been able to adjust to the game speed on special teams, and then before the Atlanta game I started getting practice reps because of Chase's foot.
"That first day at practice, I was a little rusty. I was not happy with how I played. But as the week progressed, with Chase helping me and getting me ready, it all came together."
Klein played in the fourth quarter against the Falcons and recorded three tackles. He then got most of the reps leading up to the 49ers game as well as this week.
"He's doing a great job," Kuechly said. "He's coachable, and he's a smart guy – you don't have to tell him something a million times before he gets it. He learned things quick in camp so when the opportunity presented itself against San Francisco, he was able to take advantage of it."
Head coach Ron Rivera compares Klein favorably to Kuechly, who was NFL Defensive Rookie of the Year in 2012 and is considered a frontrunner for NFL Defensive Player of the Year this season. Klein was a tackling machine much like Kuechly in college, recording 361 career tackles while also tying the NCAA record for career interception returns for touchdowns by a linebacker with four.
"He's smart and very instinctual," Rivera said of Klein, who was a kinesiology-physical therapy major at Iowa State. "He's a good tackler, and I really like his aggressive nature. He plays downhill and is a physical player."
If Blackburn can't play Monday, Rivera is hoping for more of the same from Klein against a Patriots team known for taking advantage of mistakes. Klein knows he has his work cut out for him, but he won't be outworked.
"Having one week under my belt and now another week of practice, hopefully you'll see improvement on the field," Klein said. "This is obviously my opportunity to show what I can do. I just have to take advantage it."