On pass rush issues: "We've got too good of a front to not be generating sacks and pressures. We just have to do a better job each and every week. Obviously, we're grinding every week and we just have to apply it to situations in the game. And we will. We're going to keep working, that's the only thing we can do. Try to get better and try to get this whole thing alive."
On what specifically can be done better: "Every situation. Third downs, getting off the field."
On facing max protection: "We still have to do our jobs."
On facing chips on the edge: "It's nothing new. Our pass rush will come alive. We just have to keep working at it and keep getting better."
On if there is too much pressure on him: "That ain't got nothing to do with it. I'm a professional athlete. At the end of the day, I have to do my job and I'm going to do my job. My teammates and my coaches have faith in me.
"I understand it's a process. Play in, play out – it's not about sacks all the time. It's about pressures, it's about doing the defensive calls."
On wanting sacks: "Everybody wants to get sacks."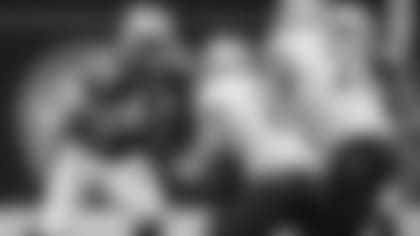 On how his Super Bowl performance changed things: "My performance last year did raise a lot of expectations, but it's a totally different team with new faces. We just have to jell together, work together and get things done on defense together – period."
On extra attention from opposing teams: "They're worried about our whole front. That's why we're getting double-teamed, six-manned, seven-manned and, hell, eight-manned. We've just got to do a better job overall of rushing. We've got to do a better job defensively period."
On secondary's play having an effect: "It doesn't have anything to do with that. They're professionals. We've trained for this in training camp. Coaches wouldn't put players out there if they didn't think they could handle the situations. We've got to do a better job as a whole defense. Period."
On players and coaches having confidence: "Definitely. We've been in this situation before. When everybody counted us out, we prevailed. We went out and made the playoffs my rookie year. The only ones that are going to believe in this process that we're going through is us. We've just got to keep fighting."
On needing a little more time to get to the QB: "Each year it's harder and harder. The more successful you are as a group – and we've been successful in past years – it's going to be harder and harder. Quarterbacks realize that. They know going into the game that the Carolina Panthers are a defensive front that can disrupt a lot of plays. They're going to get the ball out quicker and they're going to do a lot of things in their game plan. Obviously they get paid too, so we just have to be better. Period."
View top photos of Carolina's game against New Orleans by team photographer Melissa Melvin-Rodriguez.