A tight end drafted out of Mississippi in the seventh round by the Panthers in 1997, Mangum not only lasted a full decade in the NFL but he did it with the same team.
Now he is bank executive working back in Mississippi. We caught up with him recently to talk about what he's doing now and his lengthy career with the Panthers, which included 126 games and 61 starts.
So you're the CEO of Magnolia State Bank of Mississippi now?
"Yes, it's been great. It was something that started about nine years ago and I was able to learn. We're a small community bank with about $315 million in total assets – and it was a chance to learn banking from the ground up. It was just a unique situation and opportunity, and it's a great bank with great people who work here. I really enjoy it."
Your former Panthers quarterback Jake Delhomme is involved in banking now, too. You guys ever get together and compare notes?
"Yeah, you know actually I stay in touch with Jake quite frequently. I actually got a chance to go down and visit with him a month or two ago, just to sit down and talk. So yes, we do compare notes and talk.
"It's kind of neat. He's the chairman of the board (at MidSouth Bank and MidSouth Bancorp, Inc.), and then with me being in my position we have lots to talk about. It's good to have a friend and a guy you played with who has some of the same interests."
So when you two get together now, do you talk mostly football or banking?
"It always ends up going back to football, just the time we spent together and talking about the guys we played with – that unique bond that you have with those guys.
"We went a couple of years there where we were on a pretty good run. We had a bunch of great teammates and enjoyed being around each other, and we played well together on the field. That's that bond that you have. No matter how long you're out of the sport, there is just something about that bond that you form going into training camp and then throughout a 16-game season, going through the ups and downs."
Have you talked with any other former teammates recently?
"About a month or two ago, I guess, I was at a volleyball tournament in Atlanta with my daughter and I ran into Steve Smith. I hadn't seen Smitty in several years – but it's something where when you see him, it's like you haven't missed a day. You just pick up right where you left off."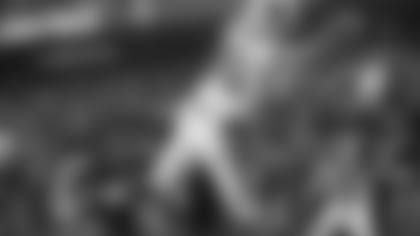 Talking about your career, there aren't many seventh-round draft picks who can say they carved out a 10-year NFL career, especially all with the same team. When you look back on that, are you a little surprised you were able to accomplish that?
"Once you're in it and you start that process, and you make it for a few years, it becomes your job. It's not like you defied the odds. I came into a unique situation. It was a really good football team that had just come off going to the NFC Championship game."
What was your relationship like with Wesley Walls, whom you backed up for a number of years?
"Wesley Walls was an All-Pro tight end and just a friend and a mentor to me. I just had a unique relationship with him. I was able to watch him in practice every day and just learn the ins and outs of it. I think we had a special relationship just coming from the same school (Ole Miss). He was real receptive to helping me out.
"So I found my niche. And then as my career progressed, I wasn't the guy who was going to catch 80 passes a year like Wesley. But I was able to be flexible, to play different positions, to block – and to catch it when they did throw it to me, knowing I wasn't the main threat. It was a good fit and good timing for me – and when opportunities presented themselves, I was able to produce enough to stay."
You did have 34 catches, including three for touchdowns, the year after Walls retired. But you knew your role wasn't to be another Wesley Walls or, putting it in present terms, Greg Olsen, didn't you?
"Exactly. I think that's the hardest part for most guys when they come into the league: understanding your role and accepting your role. I knew what my role was and I embraced it. I knew I wasn't going to be 'the guy,' and that was perfectly fine with me. I was more concerned with the team's success. Some can't embrace that. They have to be 'the guy.' But you have to have people across the team who embrace those roles.
"I have no regrets. When I was done, I knew it was time to walk away. I had my health for the most part and I knew my body had given me everything it was going to give me at the time. I had zero regrets at the end of the day, and enjoyed every second I was there with the Carolina Panthers."
Do you have a favorite moment from your time with the team, which included the Super Bowl appearance vs. New England after the 2003 season?
"You know, it's hard to pinpoint one particular moment. That whole season was special, starting off with the home win against Dallas (in the playoffs). That was really one of the first times I can remember that stadium being filled with electricity like that. That was one of the best atmospheres ever that I experienced at a football game.
"Then to go on the road the next week to St. Louis and beat them in double-overtime, and then to get back onto a plane the next week and go to Philadelphia, and beat them in the cold … that feeling of winning and knowing you're going to the Super Bowl, that was just a magical run. We had a good football team. It wasn't a fluke.
"The Super Bowl? It's hard to say that's your fondest memory, because it was a game you lost. It's still hard to watch it when it comes on NFL Network. It's still something I can't bring myself to watch.
"But those three weeks of playing Dallas, St. Louis and Philadelphia to get there? Everything clicked, and that was a run I will never forget."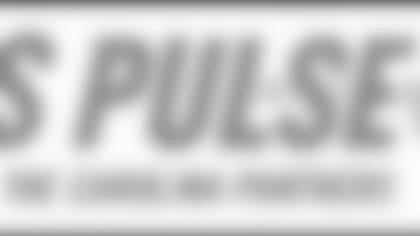 ](https://nfl.csharmony.epsilon.com/pc/clubs/Panthers/Account/register)