CHARLOTTE – Linebacker Luke Kuechly appears to be well on his way back to normal, but he won't be able to resume normal football activities until he passes through all phases of the NFL's concussion protocol, head coach Ron Rivera said Monday.
And because of that, there's no timetable as it relates to Kuechly's availability for Sunday's home opener against the Houston Texans.
"I've talked to him. He looks like Luke to me," Rivera said. "We're not going to put Luke out there until he's ready to go. We'll go through the protocol the way it's designed.
"There are steps to the protocol that he has to go through – every day it's a different step. Today it was for him to come in and see how he is. He's fine, so tomorrow he'll go through the next step – I think he's going to take the baseline test – and then that will be examined by the doctors."
Kuechly suffered the injury late in the first half of Sunday's season-opening victory at the Jacksonville Jaguars, shaken up by a head-first tackle on Jaguars running back T.J. Yeldon. After trying to get to his feet but then settling back to the ground, Kuechly exited the field with minimal assistance.
"When he went into make contact, the ballcarrier turned, and it did get a little bit awkward," Rivera said. "The fortunate part is that he was able to get to the locker room on his own and went through the protocol immediately."
Kuechly couldn't return, but he did recover enough in the moments after his injury to interact with his teammates before they headed out for the second half.
"We came in at halftime and checked on him right away and knew he was at least stable at that point," defensive coordinator Sean McDermott said. "Luke, to his credit from a leadership standpoint, came through where we meet as a defense at halftime and came through and was pumping the guys up and everything.
"We knew then that he was OK, and I think that helped the players emotionally and mentally."
Being OK and being cleared to play are two different things, but the early signs are positive ones.
The NFL's concussion protocol, adopted in 2013, calls first for rest followed by a test by the team's training staff to see if the player is functioning normally based on the results of a baseline test taken prior to the season. More extensive neurological testing follows, after which the player may be allowed to return to some physical activity. If no troubling symptoms occur, the player is eventually cleared by a team physician and then an independent physician to return to full participation.
"Today the only thing I was told was that he's OK, and he'll continue in the protocol and we'll see how each day goes," Rivera said. "He had a good day."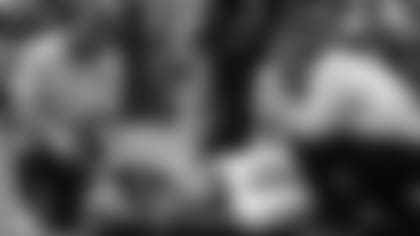 WILLIAMS HAS KNEE SPRAIN: Rookie offensive tackle Daryl Williams learned from an MRI performed Monday that he sprained the medial collateral ligament in his right knee while blocking for a first-quarter field goal Sunday.
"It's better than a torn ACL," Williams said. "It's crazy how it happened. Three guys tried to pull me back and literally when the ball was going through the uprights, a guy just fell into the back of my knees. It was bad luck."
Williams suffered a similar injury – but one that he considered worse than this one – late in his sophomore year at Oklahoma. In that case, he missed the last two regular season games and also sat out the Cotton Bowl a month later.
LONG DAYS FOR KEY CONTRIBUTORS: Rivera mentioned three players that he thinks may have played too much in the opener, two of whom were coming off injuries.
Defensive end Charles Johnson, who didn't play in the preseason due to a calf and a back/neck injury, played 78 percent of the snaps on defense.
"To be honest I thought that was a little bit too much, especially for a guy who didn't play in the preseason," Rivera said. "But Charles played very well, and the nice thing too is that Charles came to afterwards and told me he's got to play better, and I agree. When Charles plays very, very well, we're pretty doggone good on defense."
Center Ryan Kalil, who missed the last two preseason games with a knee injury, played every snap. The initial plan was to rest him some, but the injury to Williams thwarted that.
"Kalil came out of this very well from what I've seen," Rivera said. "I know he saw the doctor earlier, but it looked like he came through well."
Running back Jonathan Stewart entered the game healthy, and the Panthers want to keep it that way. He accounted for 18 of Carolina's 21 rush attempts by running backs.
"I'd like to see him not play as much, but if he's rolling and he's fighting for it, let's let him run," Rivera said. "He was fresh and felt really comfortable and confident. He ran hard.
"Anytime you have a back come in and play the way he did, that's awesome."