CHARLOTTE – On the eve of Christmas Eve, the feeling of hunger in linebacker Luke Kuechly's belly began to overwhelm his hunger for knowledge in the film room.
Just visualize the scene. Around 7 p.m. on that Tuesday, days before the Panthers visited the Atlanta Falcons in their winner-take-all regular season finale, Kuechly broke away from his preparations inside Bank of America Stadium long enough to place a takeout order.
"But they wouldn't deliver, because it (the order) wasn't big enough," head coach Ron Rivera said. "So he wanted to know if some of us wanted to join in so it would be big enough to get it delivered."
The coaches politely declined, so Kuechly faced a decision: Go get his food, take it home and call it a night, or bring it back to the stadium and get back to work?
"Usually when it gets to be seven, I start to get hungry. That's when it's time to leave. Or I'll get something and bring it back," Kuechly said. "That's usually when I need to get away from it a little bit – unless I'm really feeling like I don't know what's going on."
Come game day, Kuechly always knows what's going on, having completed a weekly process of preparation that serves him and the Panthers well. But Kuechly isn't alone in his tireless preparation for each opponent, and it certainly isn't that preparation alone that has allowed him to lead the league in tackles twice and win NFL Defensive Player of the Year once in his three-year career.
"It's his heart and how smart he is, but also how athletic he is," safety Roman Harper said. "He's so fast, so athletic. He's so instinctive.
"He is the best linebacker in the game right now. The guy can literally take over a game."
---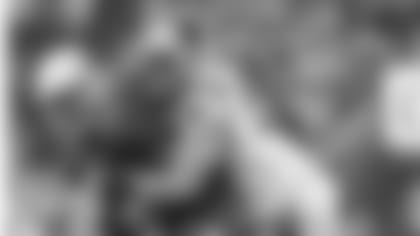 After piling up 532 tackles in three seasons at Boston College to rank second in NCAA history (he would have shattered the record had he returned for his senior season), Kuechly compiled impressive numbers at the 2012 NFL Scouting Combine. He ranked in the top five among all linebackers in six of the seven measurables. In the bench press, he had to settle for sixth-best.
The Panthers selected him with ninth overall in the subsequent draft, and his 547 tackles through his first three seasons are the most in the NFL during that time.
If a player with half the talent put the time in that Kuechly does, he'd maximize his output, but it would still only get him halfway to Kuechly. If Kuechly prepared half as hard as that guy, the two would be on equal footing.
But combine Kuechly's talent and his time commitment, and the results speak for themselves.
"It's not an accident that he's successful. He spends as much time as anybody I've been around if not more," defensive coordinator Sean McDermott said. "With the process he puts himself through, he earns the right to be good."
---
On game day, the studious side that prepared Kuechly for battle takes a back seat.
"He's just a nice guy. He talks about his mom all the time," Harper said. "But it really is like the Superman-Clark Kent thing."
The nice guy is still there, buried somewhere underneath the shoulder pads and the sweat, but it's mostly hidden from view. Harper said while Kuechly talks about his mom a lot, he won't talk about "your momma" in the heat of battle, but he can trash-talk.
"It's so Luke-style. It's not very harsh," Harper said. "It's just right to the point. He did tell a lineman one time, 'You're going to be a minus on that play.' "
As opposing ballcarriers know, Kuechly's physical play does his talking for him.
"When he's on the field, I don't think there's really much that's polite about him," fellow linebacker Thomas Davis said. "When he's on that field, all the nicknames that have been given to him – like the Luke-ness Monster – that's who he is. That's who we need him to be.
"But walking around this building and in the community, he's one of the nicest guys if not the nicest guy you'll ever meet. He's a guy that does a great job of turning it on and off."
How exactly does he flip that switch?
"I don't know. It's just a part of the game," Kuechly said. "When you get in the game, you start to get competitive. That's just how it goes. I want to win. Everybody on the team wants to win. Everybody on the other team wants to win. It just brings out the real competitive nature in everyone."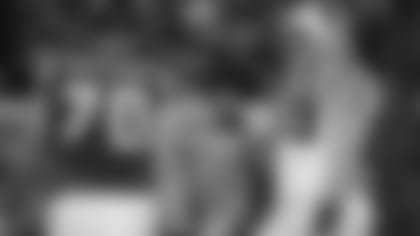 ---
Kuechly's preparation for the NFC Wild Card versus the Arizona Cardinals certainly paid dividends for all involved. In addition to collecting nine tackles – matching Davis for the team lead – Kuechly intercepted a pass at the Panthers' 4-yard line early in the fourth quarter to thwart Arizona's best chance to come back. He later deflected a pass that was intercepted in the end zone by safety Tre Boston to clinch the victory with 1:54 left in the game.
More importantly, he helped the defense hold the Cardinals to an NFL playoff-record low 78 yards in the 27-16 win that advanced the Panthers to Saturday's NFC Divisional Playoff at the reigning Super Bowl champion Seattle Seahawks.
Soon after the victory, Kuechly's process for preparation started anew.
"For him, it truly is a process," McDermott said. "It's like studying for an exam. He works at it, which from a coach's standpoint you really appreciate. The young guys in the room see how he goes about it, and he's a great leader by example because of it.
"He'll start on a typical Wednesday going through his progressions so to speak. Then I'll ask him where he is, and he'll say, 'I just need one more day.'"
True to McDermott's word, three days before the Seahawks game, Kuechly said this:
"We're off to a good start. We've got one more day to tighten some things up and get ready to go."
One more day. One more film session. One more round of chalk talk before the hunger sets in.