CHARLOTTE – Middle linebacker Luke Kuechly may gravitate towards the ball, but he quickly deflects praise.
The Panthers rookie says his performance is a reflection of the teammates around him.
His game-high 13 tackles against the Raiders on Sunday?  A product of the defensive line in front of him.
"As a linebacker, you talk to any of us, if those guys can control the line of scrimmage it lets us play," said Kuechly, who also picked off Matt Leinart in the second quarter and returned the interception 25 yards to set up a touchdown. 
Kuechly isn't one to expand on his individual performance, but his play is the talk of the Panthers locker room.
It has been for a while now, and it's impressed teammates who make sure he knows where he stands among the league's tackle leaders.
Sunday's 13 tackles puts him back atop the NFL with 151 stops.
"Luke, obviously that was a heck of a performance by him today," tight end Greg Olsen said. "Without even watching the tape, if you were just watching the game live it was pretty clear who was making most of those plays out there."
And with each tackle, his name roars through Bank of America Stadium.
"I always hear the chants from the crowd, 'Luuuuke'," quarterback Cam Newton said. "It's very inspiring to see a person like him keep going."
Newton's improved play has been critical during a stretch where the Panthers have won four of their last five games.
But Newton said it's the  quarterback of the Panthers' defense that's making the difference.
"The player that has stepped up the most in my opinion is Luke Kuechly," Newton said. "Luke has been around the ball and is playing at a high level like something I've never seen. I don't want to jump out on a limb, but he's the best I've ever been around."
Kuechly's been so good, you never expect him to miss.
But he did in the first quarter against the Raiders, when Terrelle Pryor caught a throwback pass from quarterback Carson Palmer.
Kuechly lined up Pryor and had the play bottled up for a minimal gain, but the Oakland quarterback slipped away for 22 yards.
"He got me on that first series," Kuechly said. "He juked me out and ended up running for a couple yards."
Oakland entered the red zone for the first time early in the second quarter, thanks in part to an unnecessary roughness penalty on Kuechly, who crushed wideout Darrius Heyward-Bey on a reception over the middle.
"You don't want something like that to happen," Kuechly said. "It's frustrating, because the penalty was on me and it's 15 yards. That's a big chunk."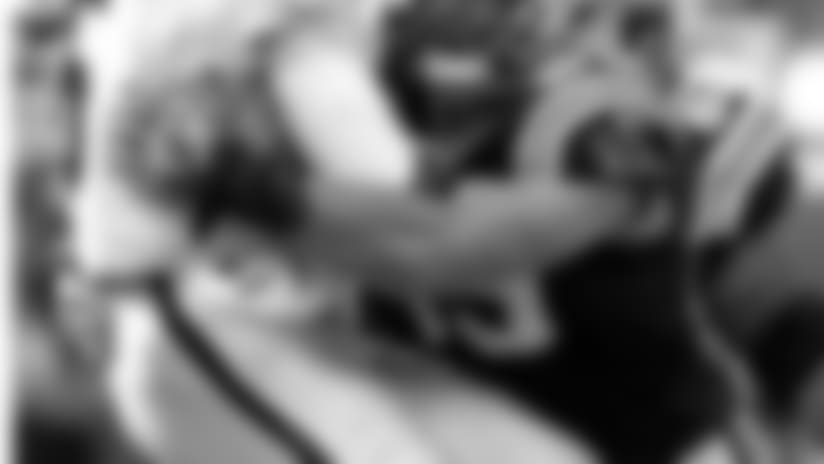 The Raiders ran eight plays after that penalty. Kuechly was in on six of them.
He's not so soft-spoken and mild-mannered when he's between the lines.
"All Luke needs is a little bit of spark," head coach Ron Rivera said, "and that (penalty) was a little bit of spark."
When Pryor lined up in the shotgun on second-and-8 from the Panthers' 9-yard line, Kuechly zeroed in. Pryor ran a keeper up the middle.
Two yards later, Kuechly met him head on.
"I got him that time," Kuechly said, smiling.
And he made sure Pryor knew it.
Kuechly and cornerback Captain Munnerlyn then combined for a third down stop on the next play, as Carolina held Oakland to a field goal.
"Luke is a tremendous football player; he really is. He is everything we thought he would be and more," Rivera said. "He has a bright future here with us, and you feel very good about him leading our defense."
And this is only year one.
"Believe it or not I think Luke Kuechly could be a better football player. I really do," Rivera said. "He has that kind of ability. He's special."