CHARLOTTE – Panthers linebacker Luke Kuechly recorded some big-time numbers in Sunday's victory over the San Francisco 49ers to earn NFC Defensive Player of the Week honors, but head coach Ron Rivera didn't even mention Kuechly's statistics when breaking down the performance.
"I might call him the brains of the outfit more so than anything else," Rivera said. "They shifted, they motioned, they reset, and he had to handle all that, had to get everybody realigned and reset and then go out and make tackles.
"That speaks very well to who he is as a football player, and it speaks well to who we are as a defense that he was named NFC Defensive Player of the Week."
Kuechly gives the Panthers three defensive players of the week in the same season for the first time in franchise history, joining defensive end Greg Hardy (Week 3) and fellow linebacker Thomas Davis (Week 6). It's the second time in Kuechly's 25-game career that he's won the honor.
"You work hard during the week, and when it pays off, it's cool," Kuechly said. "Our D-line played great. When they play as well as they do, it makes our job a lot easier."
Kuechly recorded 13 tackles, one sack and one crucial pass defensed as the Panthers shut out the 49ers in the second half to come away with a 10-9 victory.
"It took us a little while to get settled in – that first drive wasn't great – but we settled in after those first couple of drives and then after halftime we played pretty lights-out," Kuechly said. "They didn't score and didn't get too far past the 50 in the second half."
The 49ers crossed midfield late in the third quarter but lost the ball when Davis forced a fumble. They threatened to penetrate much deeper on their next drive, but Kuechly tugged at tight end Vance McDonald's arm enough to jar the ball loose on a pass over the middle that could have resulted in a touchdown. That stalled the drive, and the Panthers kicked what proved to be the game-winning field goal on their subsequent drive.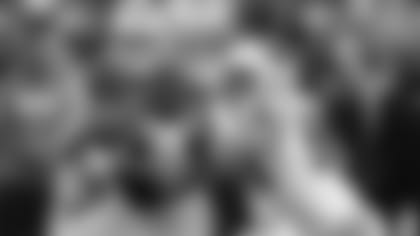 "They were in a bunch set, and I didn't think they were going to run verticals out of that," Kuechly said. "When they did, I said, 'Oh jeez,' but I was able to get my hand in at the last second. If that hadn't worked out, the game might have been a little different."
Kuechly has collected a team-high 90 tackles based on coaches' film review. His 75 tackles based on press box statistics rank ninth in the NFL, though three of the players ahead of him have played one more game because they haven't yet had their bye.
But again, with Kuechly, it isn't all about the numbers.
"He's the leader of our defense. He tells us what to do, and we do it," said defensive tackle Dwan Edwards, who matched a career high with two sacks against the 49ers. "He's a great talent, a great guy to play in front of. He has no ego and works extremely hard.
"I'm happy to have him on my team. I've been fortunate to play with some great middle backers, and he's definitely one of them."