SPARTANBURG, S.C. – Think linebacker Luke Kuechly has reached his ceiling?
Kuechly certainly doesn't think that way.
Last year at training camp, the NFL's most prolific tackler expressed a desire to improve in pass coverage. Then he went out and, despite missing the first three games of his career, recorded his most combined interceptions and passes defensed in a season, matching a career high with four interceptions.
Kuechly scored his first career touchdown in the process, and for an encore he returned two interceptions for touchdowns in the postseason.
So this year at training camp, after he recorded just one sack a season ago, what is on Kuechly's radar?
"When it's my turn to blitz, I've got to make sure I'm a factor," Kuechly said. "It's a feel thing. There's almost an art to it. In the run game, it seems pretty straight forward, and pass (coverage), too. But the rushing aspect, I've just got to get a better feel for it, and that comes with camp and reps and work on the side."
Kuechly views teammate Thomas Davis, who recorded a career-high 5.5 sacks in 2015, as the perfect teacher.
"He's good one-on-one, he can make guys miss and he can get after the quarterback. That's big," Kuechly said. "If you can play three phases as a linebacker – covering, playing the run and rushing – that's pretty good. Thomas is good at all three, and you can learn a lot from him."
It's got to be a scary proposition for the opposition that Kuechly still has significant room to grow. Injuries early and late last season technically slowed him down, but despite a concussion that cost him three-plus games he still ranked 13th in the NFL in tackles (he ranked first in 2012 and 2014 and fourth in 2013).
Kuechly didn't let a shoulder injury serious enough to require surgery after the season prevent him from pacing the league in postseason tackles, and now he's showing early in training camp that he's ready to again shoulder the load.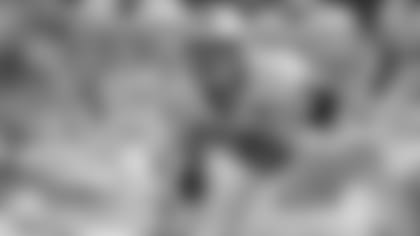 The Panthers took it easy with Kuechly throughout offseason workouts, but he's been back in the middle of everything since the start of camp.
"Obviously not doing anything on that side for a couple of months is going to limit it a little bit, but I would say it's pretty much all the way back, which is good. It makes me happy," Kuechly said. "It was a different perspective. It kind of gives you an opportunity to see it from a different angle and help some of the young guys out, but it's a bummer.
"You want to be out there, and when you know you can run around but you're just not quite there, it's tough. But it's a thing we had to do, and I learned from sitting back and watching. It was hard, but it's fun to be back out there."
Kuechly has worn a brace to stabilize the shoulder early in camp.
"At this point, all it can do is help," Kuechly said. "If it limits my range of motion on a ball where I can't get my hand up, at this point it doesn't hurt us a whole lot. As the camp progresses, we'll see what happens."
The decision to take things slowly tested Kuechly's patience, but in his return, it's hard to tell that he missed any time at all.
"It feels good to get back out there and run around," he said. "I didn't really get to do anything in the spring, so to get out there with the guys and run around and compete and bang around a little bit is fun.
"We're doing well. Camp is still early, but the first few practices have been fun. We're still trying to get better."
View photos from Carolina's third training camp practice.