SPARTANBURG, S.C. – The Panthers are working to field an offense that will keep opposing defenses awake at night.
That process is underway on the same field at training camp as the Panthers' defense and safety Kurt Coleman's eyes are wide open.
"The offense is very exciting. The multiple looks they give us as a defense, it's challenging to really match up with all the pieces," said Coleman, a veteran of seven NFL seasons beginning his third year as a leader of Carolina's defense. "They're putting a lot of pressure on the defense."
Versatile rookie running back Christian McCaffrey has been the talk of training camp, and Coleman offered his two cents unsolicited, marveling at how quickly McCaffrey has grasped the offense while adding the first-round pick "can do it all."
But Coleman spent more time talking about how the offense as a whole can do it all, how interchangeable parts can be a problem for defenses.
"They're really utilizing the playmakers that they have, and when (rookie receiver Curtis) Samuel comes back, that's going to be another dimension," Coleman said. "Funch and KB (Devin Funchess and Kelvin Benjamin) are really holding it down on the outside, and it's opening up the lanes for a lot of the playmakers on the inside like Greg (Olsen) and Christian – all the guys that are coming through the middle."
Coleman's admiration for Olsen is obvious, and the two have a thing or two in common. Asked about the Panthers' improved team speed, Coleman joked that Olsen is one of the fastest players on the offense – but he wasn't completely kidding.
"I made a joke that he's one of the fastest guys, but being able to process a play – I don't know who does it better than him," Coleman said. "It's the subtleties, the details and the craftsmanship with which he does it. That's why he literally is 'Aka 1K.' The guy is going to give you 1,000 yards each year. He is the ultimate pro."
Olsen notwithstanding, Coleman can see the increase in foot speed on offense, but he insists that speed in itself isn't enough to rattle a defense.
"Speed is speed, but it's really about how you use your speed," Coleman said. "You can't just put a track guy out there and tell him to run deep. That's easy to cover. It's kind of like a fastball. If you see a fastball over and over again, you're going to be able to time it up and hit it. So it's the off-speed – being able to change directions, being able to manipulate the defense the way you want to.
"I think that's what this offense is really evolving into. They have the pieces and the makeup to be able to run the up-tempo, run the slowdown, hit you with one formation and then with the same personnel hit you with a totally different formation. It's really tough right now for us to get a hold on what they're doing."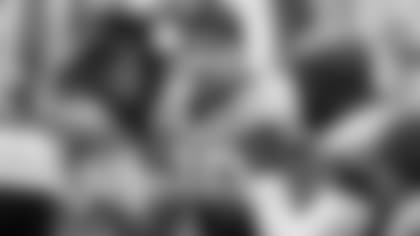 But Coleman, like Olsen across the way, has tools unrelated to pure athleticism at his disposal to combat the crafty offenses the Panthers will face this season. Coleman too processes information at a high rate, and he's not shy about gathering even more information from the guys on the opposite sideline at practice.
"The thing I'm trying to do is get feedback from Greg and a lot of the coaches about what offensive guys see from me pre-snap," Coleman said. "What am I tipping? A lot of times you can self-evaluate but you don't really see it. But when you hear it from another person you realize that maybe you are doing something.
"I'm trying to understand what an offensive guy is seeing from the defense. That's really where I can take my game so I can disguise things better or improve my overall technique and fundamentals. That's important for every position, but especially in a key role where you're trying to put guys in the right position to make plays."
Those guys, like rookie cornerback Cole Luke, appreciates Coleman's cerebral approach to the game. The players around Coleman are the better for it, and so is the Panthers' defense and the team as a whole.
"Every single day he's trying to bring somebody along and teach them something, so they can get even 0.5 percent better," Luke said. "He wants everybody to get better each and every day.
"He's the leader of our secondary, as I'm sure you guys can tell, and he's a great guy. He's somebody you want to implement your game after."
View photos from Carolina's twelfth practice at training camp.