CHARLOTTE – Coming out of high school, quarterback Kyle Allen no doubt envisioned himself ultimately attending the NFL Draft – just not under the circumstances that he did.
"It was a cool weekend all the way around," Allen said. "I was in Dallas with Sam (Darnold) and Josh (Rosen) because those are two of my good friends."
Allen was there when Darnold went third overall to the Jets and Rosen went 10th to the Cardinals, but he didn't hear his name called in the first or any other round.
"I knew if I went it would be later," Allen said, "but I knew I was probably going to go undrafted."
Undrafted but undeterred, Allen signed as a college free agent with the Panthers and took part in their rookie minicamp last weekend. Out of high school he couldn't have imagined being relegated to a backup role, but now he'd love nothing more than to earn an opportunity as a reserve in Carolina.
"Trying to make the roster is the first goal, but of course it's super early in camp so I'm just trying to get ready for OTAs," Allen said. "For me, I thought either way was going to be a roll of the dice – coming here where I could get cut or going back (to college) and maybe not getting to play again.
"I just wanted to bet on myself."
A lot of people were betting on Allen out of Desert Mountain High School in Scottsdale, Ariz., when in 2013 Rivals.com tabbed him as the nation's best pro-style quarterback and the seventh-best prospect regardless of position in his recruiting class. Scholarship offers from the likes of Alabama and Ohio State rolled in, with Allen eventually deciding to attend Texas A&M.
Tabbed in 2014 as a contender along with returning reserve Kenny Hill to take over for Johnny Manziel, Allen did just that midway through the season when he wrestled the job away from Hill. In his second start, Allen led the Aggies to a 41-38 victory that wrecked the playoff hopes of a third-ranked Auburn team that featured Cameron Artis-Payne at running back.
Allen ended the season with a five-touchdown performance in the Liberty Bowl to enter 2015 as the clear starter, but after a 5-0 start and a top-10 ranking crumbled with losses to Alabama and Ole Miss, Allen was benched.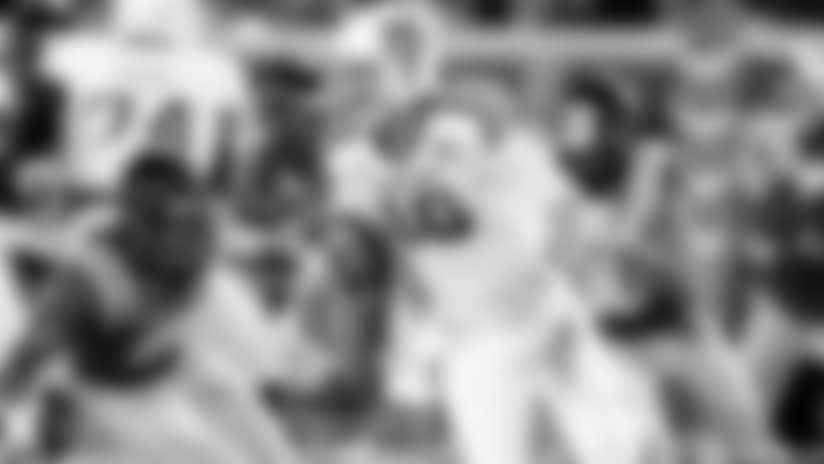 "That was tough, especially because I was so young at that time and I had never known not playing," Allen said. "It took me a couple of weeks, but I've always been a guy who has just wanted to win. I just wanted to get whoever was playing ready to play the game. I had been there the longest, so I was trying to help everyone in that room."
Allen started a couple more games down the stretch, but before the Aggies' bowl game he announced his intention to transfer. After sitting out a year at the University of Houston he began last season as the Cougars' starter, but after three games he was replaced. After the season, with a year of eligibility remaining, Allen declared for the NFL Draft.
"I'd rather come out here and try to prove it against these guys that I played against the last four years," he said. "For me my goal has always been to get to this point where I am right now, where I'm in the NFL, on a team with a chance to make a roster.
"The situation is a good one here in Charlotte. The coaching staff has been awesome so far."
Allen said one other team was interested in signing him after the draft, but at his pro day, Allen made a connection with quarterbacks coach Scott Turner that put him on a path toward the Panthers. The coaches got to see lots of Allen in action as the top quarterback at the rookie minicamp.
"He's learning a new system and his teammates are learning a new system. He did some good things," head coach Ron Rivera said. "He's a very bright kid – that's the first thing you learn as you hear him calling his huddles. That's a huge plus.
"He does have a good skill set, and he's very smart. That bodes well for him in terms of his opportunity."
Opportunity knocks. Rivera said if he had to pick a "leader in the clubhouse" for Cam Newton's primary backup, he'd go with Garrett Gilbert, who signed as a street free agent last March and split 2017 between the practice squad and 53-man roster. Carolina also has Taylor Heinicke, claimed off waivers from the Texans a month ago.
The "clubhouse" could get more crowded sometime this offseason with the Panthers still having the option of adding a veteran, but right now Allen is in the running. At this point, that's all he can ask for coming off a rocky college career.
"The ups and downs – I wouldn't change it," he said. "Everyone asks me if I would change it. I wouldn't because it's made me who I am."
View photos from Friday's rookie minicamp practice sessions.