CHARLOTTE – Lance Taylor spent just one season with the Panthers as assistant wide receivers coach in 2013, but that one season left a lasting impression.
After leaving to coach the running backs at Stanford for three seasons, he's returning to Carolina to lead the Panthers' wide receivers.
"My family loves the city and the organization," Taylor said. "There are great people, and they make it special. I love working for Coach (Ron) Rivera and Mr. (Jerry) Richardson. I'm thankful for the opportunity to come back."
This is an ideal fit for Taylor, in respects to both his family and his coaching career. Taylor is a former wide receiver, and that's the group he feels most comfortable with.
"Receiver is more of my natural position. I played the positon in college and have worked with receivers at the college and pro level," Taylor explained. "I feel comfortable jumping back in that room – kind of like riding a bike. I don't think there will be much of a transition. I think it was more difficult for me going from the receiver room to the running backs at Stanford. That was a new position for me and there were some things to learn, and that helped me grow as a coach. It was a very valuable experience."
Taylor is taking over the position formerly held by Ricky Proehl, who stepped down after four seasons as the team's wide receivers coach. Taylor and Proehl worked side-by-side in 2013 and kept in touch following Taylor's departure.
"Ricky is a great friend, and he's been a great mentor," Taylor said. "He handed down a wealth of knowledge when I was with him in 2013. I loved working with him."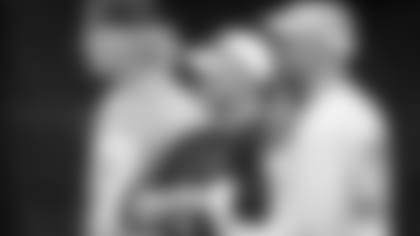 Taylor also has strong ties to offensive coordinator Mike Shula, who was Taylor's head coach during his senior season at Alabama. Shula was in his first season coordinating the Carolina offense when Taylor was on the staff in 2013.
"We've built a close relationship," Taylor said. "I was working very, very closely with him, creating call sheets and helping with things he needed."
The task in front of Taylor is to bring out the best in Carolina's wide receivers, with Fozzy Whittaker and Devin Funchess being at the top of the list.
The Panthers believe Benjamin, a first-round pick in 2014, and Funchess, a second-round pick in 2015, have plenty of room still to grow, and that growth is essential to the success of the offense.
"There is a ton of talent in the room. Ricky called me and raved and bragged on each one of them. Everybody really believes the sky is the limit for this group. Now we have to focus on rolling up our sleeves and getting to work," Taylor said.
"We're going to strive to be the best. The way to do that is through hard work, staying hungry and humble, and committing to the process of improving every day."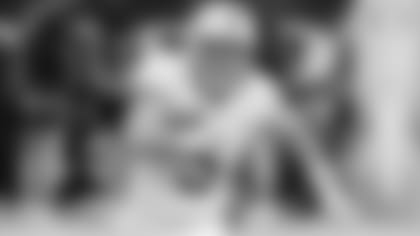 The McCaffrey connection: Taylor coached standout running back Christian McCaffrey throughout his three-year career at Stanford, and now the two-time All-American is looking for a home in the NFL.
"I think he'd look great in Panther blue and black," Taylor said with a laugh.
McCaffrey, who finished with 6,987 career all-purpose yards, was a versatile weapon for Stanford, creating big plays as a runner, receiver and returner.
"He made my job so much easier," Taylor said. "I love Christian as a person and player. He's great because of how he works and prepares. I've said this to people, he reminds me of Luke Kuechly with his work ethic and leadership on and off the field. He's the first one in the building and the last to leave. He wants to study, he wants to perfect his craft. That's what makes him special.
"I know he's going to have a ton of success at the next level. I would love for it to be with us. But I'll be cheering him on wherever he goes."
View photos of the wide receivers in action during the 2016 season.