MOBILE, Ala. – Larry Ogunjobi was a 350-pound high school sophomore when his parents told him it was time for a change.
"My parents said I was gaining too much weight, and they took away my video game system," Ogunjobi recalled. "They took me to a football field and said I was playing football. I said, 'No, I'm not' and they said, 'Yes, you are.' We had an exchange."
His parents were always going to win that exchange, and in doing so, they put their son on a path to the NFL.
After joining the football team his sophomore year, Ogunjobi was an all-conference performer at Ragsdale High School in Jamestown, N.C., as a junior and senior. In 2012, he became part of the Charlotte 49ers' inaugural recruiting class.
He worked diligently to transform his body, losing more than 100 pounds at one point and becoming a key contributor at defensive tackle with his lateral quickness relentless effort.
Ogunjobi was a decorated four-year starter, finishing his career as the 49ers' all-time leader in tackles (217), tackles for loss (49), sacks (13) and quarterback hurries (33).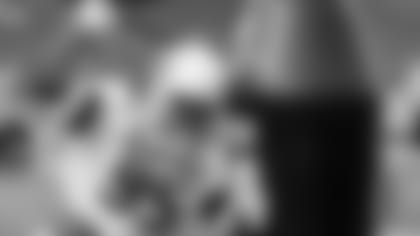 "I'm proud of all he's done as a 49er," Charlotte head coach Brad Lambert said. "His work ethic, specifically, has really helped elevate our football program.  He's been a rock in building this program, and that's set us up for good things in the future."
Scouts took notice of his talent, and Ogunjobi became the first 49er to earn a trip to the Senior Bowl. In a few months, he'll hope to be the first Charlotte product drafted.
Here in Mobile, he's wearing the 49ers logo on his helmet proudly as he competes side by side with linemen from blue-blood programs like Michigan and Notre Dame. And while he blazes a trail for Charlotte, Ogunjobi is showing everyone what individual belief and hard work can accomplish.
"It's humbling. I'm trying to make a name for myself and my school," Ogunjobi said after performing well in his first Senior Bowl practice. "It's way bigger than just me.
"I try not to put too much pressure on myself, but I know everybody back home is rooting for me. People have to understand it's not where you go; it's what you do there."