The list of names is long and impressive, and it serves as a great reminder that despite all the seemingly endless talk and analysis beforehand, the NFL Draft always has been and always will be an inexact science.
We're talking about mid- to late-round draft picks and college free agents who weren't even drafted who not only have made Panthers rosters through the years but have contributed mightily.
From safety Chad Cota in the team's first draft in 1995 to the likes of wide receiver Corey Brown and guard Andrew Norwell last year, Carolina has frequently struck it rich in the later rounds or in college free agency after the draft was completed. Cota, a seventh-round selection, made one of the most memorable interceptions in franchise history a year after being drafted, sealing the Panthers' first-ever playoff berth in a win over the Pittsburgh Steelers. Brown and Norwell were both undrafted free agents from Ohio State who emerged as starters for Carolina's NFC South championship team last year.
In between, there have been draft choices like tight end Kris Mangum (seventh round - 1997), linebacker Lester Towns (seventh round - 2000), offensive lineman Geoff Hangartner (fifth round - 2005), cornerback Captain Munnerlyn (seventh round - 2009), defensive end Greg Hardy (sixth round - 2010), cornerback Josh Norman (fifth round - 2012) and cornerback Bene Benwikere (fifth round - 2014). Undrafted college free agents who made their mark with the Panthers include running back Fred Lane (1997), fullback Brad Hoover (2000) and running back Nick Goings (2001).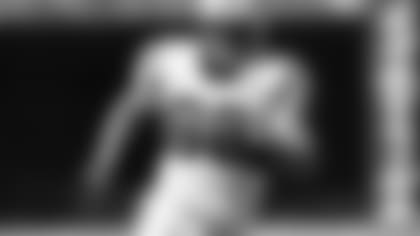 Tight end Kris Mangum, a seventh-round draft choice from Mississippi by the Panthers in 1997, ranks eighth in team history with 151 receptions.
There is a lesson in this history for the Panthers and all NFL teams as the 2015 draft approaches.
"You're still going to get starters from throughout the draft, if you're paying attention," general manager Dave Gettleman said. "You look at us last year. We had three undrafted rookies starting at the end of the season: Andrew Norwell, Corey Brown and (linebacker) Adarius Glanton. The year before we had (cornerback) Melvin White starting, we had (safety) Robert Lester starting, and we also got (defensive end) Wes Horton, who started a bunch of games for us this year.
"When you're drafting, you can't look at any draft pick as a throwaway. They're all critical. Every pick is important. They're all like gold."
The tendency from the outside is to think that general managers and personnel men get a special kick out of late-rounders or undrafted free agents who not only make the team but contribute. But that's not always how general managers look at it.
"I never looked at it that way," said Bill Polian, who now dissects the draft and all things NFL as a television analyst for ESPN. Polian was Carolina's first general manager and helped guide the team through its first three drafts before leaving to serve as president of the Indianapolis Colts.
"I always viewed the draft as a continuum, where you wanted to come out with as many players for your team as you could, including college free agency, which we really did a bang-up job of in Indianapolis," Polian said. "We dedicated a lot of our resources to that there because of a lot of what we learned when I was at Carolina.
"I always tell people at ESPN that all the focus is on the first round, but the guys who win championships for you come from the fourth round all the way through college free agency. The general manger really is more concerned with them than he is with the first-rounder. That's only one player, and there is so much information on those guys. If you can get five or six who make your team out of the draft, which would include college free agency, then you've done a bang-up job."
Marty Hurney, the Panthers general manager from 2002-12, more or less agreed.
"The goal going into every draft is to try to get three starters," Hurney said. "Then you also want to add guys who compete and add depth and compete on special teams. And it really doesn't matter where they come from, as far as your team goes. Now perception-wise, it does. But it really doesn't change (for general managers).
"In the later rounds, some teams have different philosophies. Some teams go with measurables more, some teams go with needs more. But we always took the same approach in every round. We evaluated every guy the same in every round, as far as how he fit in that round, how he fit in that group of players, and how he fit us in the scheme that we were running and what we wanted to do. So when you get a guy like Captain Munnerlyn in the seventh round, that's great. But I don't know that you feel any better (than hitting on an earlier pick). You just want to get three starters out of every draft, and you don't really care where they come from."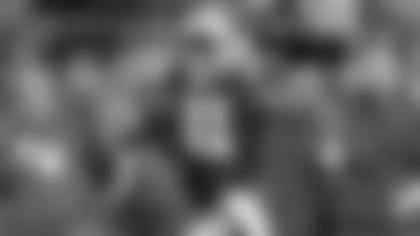 Cornerback Captain Munnerly, a seventh-round draft choice from South Carolina by the Panthers in 2009, ranks first in team history with five interception returns for touchdowns.
Yet, there are times when you exceed expectations.
That's why Gettleman took special pride in the job he and his staff did a year ago. Not only did they land the aforementioned undrafted college free agents who started games as rookies, but they also gained starters in safety Tre Boston in the fourth round and Benwikere in the fifth round. Add in wide receiver Kelvin Benjamin in the first round and guard Trai Turner in the third round, and the Panthers had a team-record seven rookies who started in Week 16 versus Cleveland.
So there are times when hitting on the late-round and undrafted players can give the general manager a little rush.
"Who doesn't want to be right all the time? You know what I'm saying?" said Gettleman, chuckling.  "I've said it, and I'm sure you've seen it printed, I have great confidence in our evaluation ability around here. I really do.
"What these kinds of guys are is bonuses. When you sign an Andrew Norwell and a Corey Brown and an Adarius Glanton after the draft - and they're playing well, they belong, you feel good about that. There are guys in this league who are lower-round guys and undrafted guys who end up as starters because of injuries, and you're hoping they can plug a hole in the dike. What excites me is that we're winning because of these guys - not in spite of them. And that'll give you the rush."