CHARLOTTE – Every cornerback charged with the unenviable task of trying to shut down NFL receivers is trained to have a short memory.
"I'm a defensive back, so I forget things," cornerback Captain Munnerlyn said after Carolina survived Sunday's close call against the Bills. "But since you brought it up, it does make me think, 'Wow, it could have been the Buffalo curse again.' "
In Munnerlyn's first year with the Vikings in 2014, his new team fell to the Bills 17-16 when Kyle Orton hit Sammy Watkins for a 2-yard touchdown with one second left. Munnerlyn could hardly believe his eyes because a year earlier, in the same corner of the same end zone at Ralph Wilson Stadium, the Bills beat Munnerlyn and the Panthers 24-23 when E.J. Manuel hit Stevie Johnson for a 2-yard touchdown with two seconds left.
In the Ron Rivera era, that game stands as one of the true low points but also a pivotal point. Sunday, in the teams' first matchup since the 2013 meeting that gave birth to "Riverboat Ron," an eerily similar set of circumstances developed in the Panthers' home opener.
The differences? Well for starters, the Panthers won this time around.
"I don't remember too much from that one," defensive end Mario Addison said. "But this time, we did what we were supposed to do."
Rivera and the players didn't do what they needed to do back in 2013. Leading 20-17 facing a fourth-and-1 at the Buffalo 21-yard line with 1:38 left and the Bills out of timeouts, Rivera elected to try a field goal.
The Bills then knew it was touchdown or bust for their rookie quarterback, but they were facing a secondary decimated by in-game injuries that among other things left both starting safeties using crutches ("I was about to play safety," linebacker Thomas Davis recalled). With Colin Jones pressed into service at safety – where he had played 22 snaps in 16 games with the Panthers – miscommunication between him and Josh Norman led to an easy score. The loss dropped the Panthers to 0-2 in Rivera's first season as the head coach inherited by new general manager Dave Gettleman.
Flash forward to Sunday, when on fourth-and-goal from Bills 2 with 2:38 to go and leading 6-3, the Panthers elected to kick a field goal for a 9-3 lead. While it seemed similar to 2013, it was a no-brainer decision even for "Riverboat Ron" to take the points.
That's because this defense isn't giving up any points – until it almost did.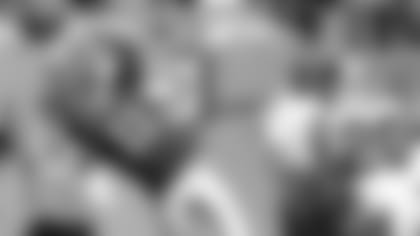 "Please don't catch it. Please don't catch it."
That's what cornerback James Bradberry was thinking as a déjà vu situation of which he wasn't aware nearly developed. Bradberry, who was a sophomore at Samford University the last time the Panthers and Bills met, said Carolina's defense was "very confident" when Tyrod Taylor and the Buffalo offense trotted onto the field for its touchdown-or-bust moment.
The Bills battled their way down the field but seemed destined to run out of time or downs against a defense that was just too tough. But facing fourth-and-11 at the Carolina 33 with 14 seconds to go, Taylor spotted rookie Zay Jones breaking free down the right sideline – behind Bradberry.
"We were in quarters (defensive alignment), and the concept they had was a 'quarters beater,'" Bradberry said. "They had a decoy out there with the running back running a curl. I'm supposed to play high, but they baited me and threw it behind me."
Jones had to adjust his body to get in position to make the catch, however, and he couldn't quite haul it in.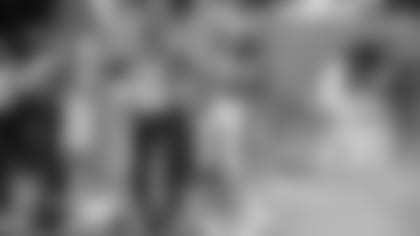 With that, the Panthers avoided the "Captain Curse," improved to 2-0 and became the first NFL team since the 2010 Baltimore Ravens to not yield a single touchdown through two games.
A lot happened between Sunday's victory and that game in Buffalo four years and two days ago. The 2013 team, headed by a wiser Rivera bounced back from the 0-2 start to finish 12-4 and earn a playoff berth behind a defense that ranked second in the NFL. Carolina's next two teams went to the playoffs as well.
Last year's team struggled, however, following a magical 15-1 campaign with a 6-10 disappearing act. So while some might say Sunday's victory was almost as ugly as the loss to Buffalo four years ago, the Panthers won't.
"I've never heard of any ugly win," cornerback Daryl Worley said. "If you go 16-0 winning every game 9-3, I wouldn't call that ugly."
View the top photos from Panthers vs Bills by team photographer Melissa Melvin-Rodriguez and second shooter Jamey Price.