It isn't often that a general manager is given a completely clean slate with which to build a NFL roster.
But then, NFL expansion teams don't come along very often. And when they do, that truly clean slate is at a general manager's disposal once and only once.
Bill Polian knows all about it. He was the Panthers' first general manager, and along with then-team president Mike McCormack and a college scouting staff headed up by Dom Anile, they developed the draft strategy in 1995 that laid the foundation for the most successful expansion team in NFL history and the 1996 squad that won the NFC West title.
It sounds romantic, that clean slate.
But in reality, it is quite daunting. When Carolina's first organizational meeting was held in February 1994 - nearly 17 months before the first training camp practice - it was lightly attended. The only three members of the front office at the time were McCormack, Polian and assistant general manager Joe Mack.
Asked what they could have hoped to accomplish during that first meeting, Mack laughed and replied: "Go out and buy pencils and notepads. We had nothing ... literally nothing.
"Actually, though, we had a lot of decisions to make. We had to get a computer system established, a player grading system established. We had to hire scouts and video people. We had to get our organizational chart in place."
That was long before they could participate in the team's first NFL Draft. But Polian knew how important that draft - April 22-23, 1995 - would be. Carolina headed into it owning the first overall selection but armed with the knowledge that pick could be parlayed into much, much more than one impactful player.
In other words, the Panthers were willing to trade the No. 1 overall choice to add extra players to an obviously thin, almost non-existent roster, at that point. But Polian was adamant: the goal was to acquire four or five impact players rather than seven or eight mediocre ones.
That, he insisted often to his colleagues behind closed doors heading into the draft, is how you build a foundation for a successful franchise.
"We thought if we could get four first-rounders, at almost any price, it would be a successful draft," Polian said. "The idea isn't to win the draft and get a lot of extra picks; it's to win on Sundays."
On the strength of three separate draft-day trades, which netted Carolina four of the draft's first 36 picks and amounted to four first-round choices by Polian's standards, the Panthers maneuvered into position to select six players who played regularly as rookies and made immediate impacts on the franchise's inaugural team - a starting quarterback (Kerry Collins), two starting offensive linemen (tackle Blake Brockermeyer and guard Frank Garcia), a starting cornerback (Tyrone Poole), a pass-rushing specialist (Shawn King) and a special teamer who later would become a starting safety (Chad Cota).
According to their own draft board and most of the results on the field over the next two seasons, the Panthers grabbed a lot of value that escaped the trained eyes of most other teams.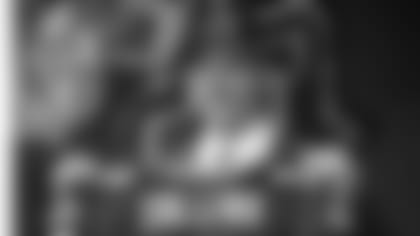 Collins ended up being the second quarterback selected in the draft behind Steve McNair, taken by the then-Houston Oilers with the No. 3 pick overall. But Collins was ranked No. 1 at not only his position but first overall on the Panthers' board.
Poole was Carolina's top defensive back, and the team traded up with Green Bay to get him at No.22 overall. Brockermeyer was rated second by the Panthers among offensive linemen, behind only No. 2 overall pick Tony Boselli by Jacksonville. But by the time Carolina grabbed Brockermeyer at No. 29, he was the fifth offensive lineman selected. King, fourth on the Panthers' board among defensive linemen, was the ninth such player taken after Polian used the second-round selection acquired in the trade with Cincinnati that also produced Collins to nab him.
Garcia, Carolina's fourth-round choice, wasn't even invited to the NFL Scouting Combine. The same held true for fifth-round selection Andrew Peterson, a college teammate of Garcia's at Washington. Peterson, also an offensive lineman, went on to start two games for the Panthers as a rookie in 1995.
Those middle-round value picks proved that Carolina's scouts had done their homework.
"Once preseason games started, scouts from other clubs were coming up to us and saying how much they liked Garcia and Peterson and how they were just about to pick them when we grabbed them," Anile said later. "I don't know if I believe that."
Of course, the big trade for the Panthers that day was the decision to surrender the No. 1 overall selection to the Bengals that basically swapped everybody's supposedly all-world, can't-miss running back, Ki-Jana Carter, for Collins and the extra pick that became King. Carter, Collins' teammate at Penn State, ended up tearing an anterior cruciate ligament in his knee before ever playing in a regular-season game and never came close to having the kind of NFL career that was projected for him.
McCormack said the decision was surprisingly easy. "There's an axiom in pro football: You never pass up a quarterback," McCormack explained on draft day.
Polian said McCormack reminded him of that often leading up to that first draft.
"Mike reminded me many times that he played on some great teams (with the Cleveland Browns) who had the greatest running back arguably of all time, Jim Brown, and they didn't win enough championships because they didn't have a quarterback," Polian said.
Collins led the Panthers to an expansion-record seven wins in their first season and to the NFC Championship in their second.
Anile laid out the importance of striking it rich with your top picks in the draft. Speaking on the subject some two decades ago, what Anile said then still holds true today.
"The top three rounds matter most," he said. "Make a busted pick in the top three rounds and your organization doesn't recover for a couple of years. You're in trouble if you don't hit on those guys.
"The players you pick in the fourth and fifth rounds should be competitive and make a good run at your football team. Whether your sixth- and seventh-round picks make an impact is a matter of how hard the scouting staff is working. The majority of good players are gone by then."
And just like that, so is the once-in-a-NFL-lifetime clean slate for a general manager and an expansion franchise. Polian and his staff obviously made the most of their rare opportunity.