CHARLOTTE – A personal journey reached a pivotal point for Leonard Johnson on Sunday, but the veteran cornerback was much more focused on helping his new team find its way.
Johnson, who had spent all season on the non-football injury list recovering from Achilles surgery, saw his first action of the year and his first-ever action in a Panthers uniform Sunday against the Cardinals.
He went from cheerleader to major contributor overnight, recording eight tackles – including a sack - to help a Panthers secondary that had struggled during a four-game losing streak play a positive role in Carolina's 30-20 victory.
"I'm just grateful – grateful and thankful for the opportunity. My job today was to just come in and play my role to the best of my ability to help this team," Johnson said. "Everyone played a key part to my return. This is just my way of simply repaying those guys, the organization and the team for allowing me to join."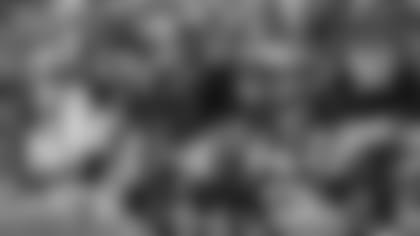 Johnson filled the nickel corner role for the Panthers like he did from 2012-14 for the Buccaneers, but he did more than that. Once Johnson got up to speed after becoming eligible to practice with the Panthers after their last game in Week 6, he was used in some blitz looks but didn't know whether the Panthers would implement those come game time.
They did, and Johnson responded to the call by recording his first career sack to help the Panthers rack up eight as a team. Carolina would have tied the franchise record of nine if another sack by Johnson wasn't wiped out by an unnecessary roughness call on him.
"I've never blitzed as much as I did today, so it was a bit surprising that I was able to get in and be that disruptive," he said.
Overall, though, Johnson wasn't surprised by his showing.
"There was no doubt in my mind that I was ready," said Johnson, who played in four games late last season with the Patriots and then had Achilles surgery after they released him. "I practiced all week at a high tempo, and I didn't go out and play scared or timid in regards to my Achilles.
"My only question was my endurance, how I would be able to hold up throughout the game."
Johnson answered that concern with flying colors as well. The Cardinals closed within one play of making a real game of it when they tried to convert a two-point conversion trailing 30-20 with five minutes to go, but Johnson broke up the pass attempt.
"He had a lot of energy, and he played confident, like he's been out there the whole year," fellow cornerback Robert McClain said. "He was confident and played fundamentally sound."
Quarterback Cam Newton said Johnson brought a spark to the defense, something that didn't come as a surprise to players that have been around him since training camp but obviously hadn't seen him in game action.
"We know he was happy to finally be out there. He's been on edge the last couple of weeks," said fellow cornerback Daryl Worley, who paced the Panthers with 11 tackles and also had a sack. "His energy is great, even in practice. He's flying around, 100 miles per hour."
Worley said the team had talked leading up to the game about Johnson's fresh legs possibly helping the cause. The spark that his teammates had seen in practice did indeed carry over to game day.
"What you witnessed today is what I bring to practice every day," Johnson said. "I truly believe that if I practice with the same emotion, tempo and competitive spirit, it makes the game a lot easier."
View game action photos from Carolina's 22-19 win over Arizona.