CHARLOTTE – Monday, defensive coordinator Sean McDermott said he was excited about seeing cornerback Leonard Johnson take part in his first Panthers practice.
McDermott wasn't half as excited as Johnson was.
"It's amazing to be able to have another opportunity and to be able to get out there with a group of guys I've been with since July 13," Johnson said Tuesday after his first practice. "It felt amazing just to fly around and be able to have fun and play football again. It's very exciting."
Johnson, who underwent Achilles surgery in March and has been on the reserve/non-football injury list all season, practiced Tuesday on the first day he was eligible to do so. The Panthers now have three weeks to decide whether to add Johnson to the 53-man roster or place him on injured reserve, but the decision to start that clock during a week when the Panthers are practicing just once suggests that they don't think they'll need the entire window.
The cornerback group, without starters James Bradberry and Robert McClain entering last Sunday's game and without Daryl Worley for much of the second half, certainly could use a healthy body.
"We think he can help us," head coach Ron Rivera said. "We did some things that played to his strengths, and he handled it very well."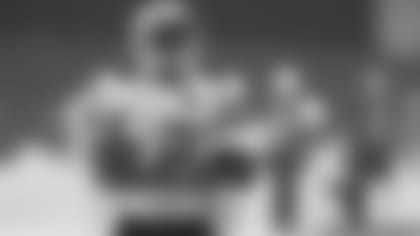 Johnson's strength is at nickel corner, though he has skills that can translate to the outside as well. Johnson started 17 games for the Buccaneers from 2012-14 and started three games for the Patriots late last season, collecting five interceptions and 23 passes defensed along the way.
His Achilles took a beating over time, however, and on March 10, Panthers orthopedist Robert Anderson performed surgery in Charlotte.
"The first thing I told my mom after I had my surgery over at OrthoCarolina, I said, 'It would be great if I could come here,' " Johnson said. "I'm full bore. My personal trainer, Ben Patrick, did a great job rehabbing me and also instilling some confidence in me. I don't play timid; I don't play scared in regards to the Achilles.
"Plus I've got the best foot and ankle specialist in the world. He told me he didn't know how I had played with that the last four years. So if I did that the last four years, I can do it with the problem fixed. It just feels amazing."
Johnson didn't know what his future held after the surgery, saying he felt "homeless." But he returned to his Tampa home and surrounded himself with former Buccaneers teammates like Gerald McCoy and Lavonte David while he worked his way back and waited to hear from a team.
"Gerald, Lavonte, I'd have dinner every Thursday night at their places. They kept me uplifted. They played a part in this journey," Johnson said. "Then I came here three months after my surgery and worked out, and it was good enough for them to keep me.
"This has been a top-tier organization since I've been in the NFL. Playing in Tampa, we've always struggled with beating Carolina. I felt like I knew the organization from the outside. From the inside now, it's the same. I'm just glad to be a part of it and can't thank everybody enough for believing in me coming off my Achilles surgery."
Day after day, week after week, Johnson has worked on the side at practice with his teammates working together a few yards away. He said he feels like he's been a part of everything the team has done, though something did set him apart.
Even on days when his teammates have practiced in shorts, Johnson has been in pants – specifically, game pants.
"I've worn them every single day. I don't want to take them off," he said. "I know what it feels like to take these pants off. Every time I put these pants on, it's a glimpse of what it would be like for me to step into a game-like situation.
"I'm grateful for this opportunity. My job now is to come out and put my best foot forward and reward them for allowing me this opportunity."
View photos of the Panthers' practice heading into the Bye Week.