SPARTANBURG, S.C. – Second-year safety Robert Lester has been spending a lot of time with fellow Alabama alum Roman Harper lately, and for good reason.
"Any time you have an older guy that's been in the league (eight years) it's great to have him in the backfield with you," Lester said. "He can show me things that I haven't seen before."
Lester, who recorded 21 tackles and three interceptions are a rookie, wants to play faster in his second season, and he knows he must have a firmer grasp of the defense and his responsibilities within it to play free of any hesitation.
"Me personally, it's always about my speed and playing faster. Just getting that edge to make plays," Lester said. "I'm definitely working on that, learning the defense the way I have and having the ball instincts. I just have to get there faster and play faster."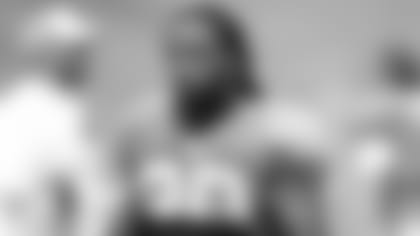 GODFREY SETTLING IN: At first, safety-turned-cornerback Charles Godfrey admits he had some trouble remembering where he needed to line up.
"First couple times it was weird," Godfrey said. "I broke the huddle and I kind of went back like I was playing safety and I was like, 'Oh no, I have to find the receiver.'"
For Godfrey, who played safety his first six NFL seasons, the hardest part of this transition has been breaking old habits – like shifting where his eyes are focused prior to the snap.
"Being a safety, you are always taught to look inside and look at the alignment, look at the quarterback," Godfrey explained. "At corner, you have to get back to the receiver. You have to go out there and do it. I'm on that now."
The preseason is a perfect time for Godfrey to test himself, and he won't take these next three games lightly.
"Since I've been in the league I've never taken preseason lightly," he said. "I take it as an opportunity to get better for the regular season. In a couple weeks it will be the real deal, and I don't want to be like, 'OK, now I have to turn it on.'"