SPARTANBURG, S.C. – For one of the most intense position groups on the Panthers' roster, competition took a back seat to compassion Wednesday – for one day.
"When you lose a guy like Kelvin, you all feel it," wide receivers coach Ricky Proehl said Thursday in reference to the season-ending knee surgery suffered Wednesday by top receiver Kelvin Benjamin. "We've got a tight group in our room, and they were all devastated.
"But now we'll turn the page and realize that Kelvin isn't going to be with us this year, and guys are excited about the challenge of stepping up and making plays and showing that they can get it done. And they will get it done."
Head coach Ron Rivera said the injury won't change what the Panthers do and that Carolina will fill the void by committee. It's an approach he's had success with in the recent past.
Last offseason, after the Panthers parted ways with all four receivers to catch passes in 2013, Rivera noted that the quartet caught 156 balls - roughly 10 per game – meaning that was the production the Panthers needed to replace. Last season, the Panthers' new receivers totaled 176 receptions, and the team moved from 29th in pass offense to 19th.
Returners from last year include veteran Jerricho Cotchery and improving youngsters Corey Brown and Brenton Bersin, a trio that combined with Jason Avant (released midseason) to catch 82 balls in 2014. Brown, listed on the first-team depth chart even before Benjamin's injury, could easily double his 21-catch total as a rookie (Avant caught 21 as well) and keep that trio's catch total in the same range.
That leaves the production of Benjamin, who paced the Panthers 73 catches last season - or a little less than five per game. At this early juncture in the process, here's a look at some ways the Panthers can make ends meet.
The specter of seeing opposing secondaries have to deal with a pair of tall, physical receivers will have to wait another year, but Devin Funchess still can't wait for his rookie season to start.
"It's always been my expectations for this to be a big year," Funchess said. "Now I guess with what happened, everybody else expects more on my plate."
Funchess and the Panthers are confident the second-round draft choice can make an early impact, though they also understand it's still early in his development.
"He's a gifted guy who has speed and athleticism. He just needs to play to his size," Proehl said. "The transition to the NFL has been a little different for him, but he's a guy who has gotten better every day and will continue to get better."
How fast will Funchess will be up to speed? A hamstring injury suffered the same day Benjamin went down doesn't help, but he still should be ready to contribute soon.
"We drafted Devin Funchess for a reason," Rivera said. "You want to have a big, quality receiver and, Devin gives us that."
One of the difficult departures following the 2013 season was speedster Ted Ginn, Jr., a former first-round draft pick who enjoyed close to a career year with 36 catches dotted with explosive and important plays.
Well, after the opposite of a career year in Arizona, Ginn is back. And at training camp, he looked like Ginn circa 2013.
Ginn opened camp and closed it with a long touchdown reception, absolutely blowing by Miami Dolphins starting cornerback Jamar Taylor for the latter one.
In a word, Ginn looks ready.
"I showed that I can still play this game regardless of what happened last year," Ginn said. "I wanted to regain the respect from everybody at this camp."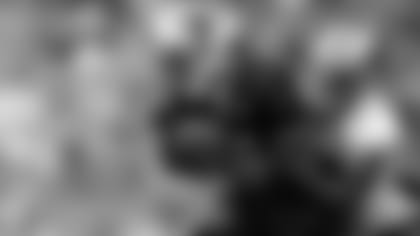 There's certainly the possibility that someone relatively off the radar will rise up, much like Brown did as an undrafted rookie last season. Undrafted rookies Damiere Byrd and Avius Capers enjoyed strong camps, and rookie Paul Browning – signed at the beginning of training camp – would love to repeat what running back Fozzy Whittaker did by making the roster in a similar situation last year.
But what about a pair of veterans who have been under the radar most of their careers but have a track record of production just the same? Jarrett Boykin caught 49 passes for the Green Bay Packers in 2013 and Mike Brown caught 32 for the Jacksonville Jaguars the same year.
Of late, Boykin has risen.
"Boykin really came on these last couple of days," tight end Greg Olsen said. "He really stepped up."
Who says all of Benjamin's production has to be made up by receivers?
At tight end, Olsen was a Pro Bowler last season and has shown no signs of slowing down. Meanwhile, running mate Ed Dickson is showing signs of picking up his pace. He made several big plays in the final practice of training camp, and last season, he put up better receiving numbers over the final four games (including postseason) than he did over the first 14.
At running back, starter Jonathan Stewart has 96 catches over the last four seasons (including 47 in 2011) in mostly a reserve role, and fullback Mike Tolbert had caught at least 25 passes (including 54 in 2011) four straight years before injuries held him to a career-low 12 last year.
And who could forget Whittaker's catch and run in the Panthers' playoff victory last season? Well, Whittaker only caught five balls in the regular season while carrying the ball 32 times. He's capable of much more, as evidenced by his 21 catches for the Cleveland Browns in 2013 when he ran the ball just 28 times.