After picking in the top 10 last year, the Panthers are in the bottom 10 for the 2018 NFL Draft.
Carolina, coming off an 11-5 season, owns the 24th overall pick, a choice the franchise has never had before (The Panthers have had the 25th pick twice, in 2015 and in 2007, when they took linebackers Shaq Thompson and Jon Beason).
For what it's worth, here's a look at who has been selected with the 24th pick over the last five years.
2017: Raiders choose CB Gareon Conley
Played in just two games and was placed on season-ending injured reserve following Week 9.
2016: Bengals choose CB William Jackson III
After missing his entire rookie season on IR, Jackson played 15 games with five starts in 2017. He posted 14 pass breakups and one interception, which he returned 75 yards for a touchdown.
2015: Cardinals choose OT D.J. Humphries
Did not play as a rookie, but has started 18 games over the past two seasons.
2014: Bengals choose CB Darqueze Dennard
Played every game in 2017 and started six. Dennard has tallied 11 pass breakups and three picks in his four seasons.
2013: Colts choose DE Bjoern Werner
Recorded 6.5 sacks in three seasons before retiring at the end of the 2015 season.
As you can see, there have been mixed results to say the least. But a deeper dive into the history of the 24th pick reveals A LOT of star power.
Among the names? Guys you may have heard of like Cameron Jordan, Dez Bryant, Aaron Rodgers and Ed Reed. Not too shabby.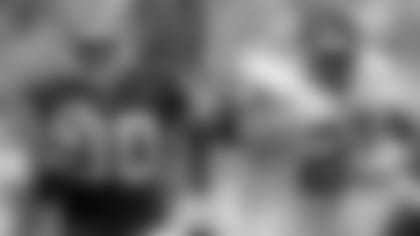 Go further back and you'll see wide receiver Eric Moulds and running back Rodney Hampton were also taken at No. 24 in the 1990s. Moulds was a four-time Pro Bowler who posted four 1,000-yard receiving seasons with the Bills. Hampton was a two-time Pro Bowler who posted five 1,000-yard rushing seasons with the Giants.
Go further back than that and you'll find two-time Heisman Trophy winning running back Archie Griffin, who was drafted by the Bengals in 1976.
Check out the gallery below to review all the players drafted with the 24th pick since 2000.
Check out photos of the last 18 players chosen 24th overall in the NFL Draft.