CHARLOTTE – The Panthers' locker room stood silent in the moments after Sunday's game came to a close, with nearly 40 percent of the players inside it experiencing something for the first time.
It's not something they want to experience again anytime soon.
"It's very disappointing," center Ryan Kalil said. "We take a lot of pride in winning at home. Good football teams win at home, and we didn't do a good job today.
"We let it slip from us."
The Panthers led 10-0 early and appeared on their way to a 12th consecutive victory in regular season home games, but then they stopped doing many of the things that led to the streak in the first place.
Instead, it was the visiting Vikings that played winning football, taking advantage of some uncharacteristic play by the Panthers to come away with a 22-10 triumph.
"We were bad," tight end Greg Olsen said. "Just all around, really, really bad."
The Panthers wanted to win in the worst way Sunday, even beyond football.
In some small way, they hoped to provide the city of Charlotte with some cause for celebration during one of the most trying times in the city's proud history. Civil unrest has enveloped the city for days and was part of the backdrop for Sunday's game, but head coach Ron Rivera said it would be unfair to in any way suggest that the Panthers' performance had anything to do with the events of the last week.
"I'm not looking for excuses," Rivera said. "What happened here was very tragic, and what we were hoping to be able to do was come out and put that aside for a while, but we just didn't play very well."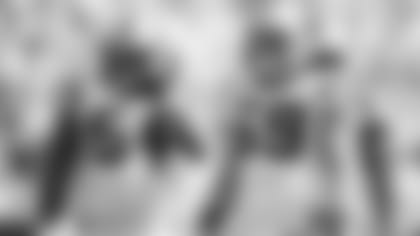 The Panthers had handled all sets of circumstances at home for the last 22-plus months. The last time they lost at home, to the Atlanta Falcons back in November of 2014, it marked their third consecutive home loss and the fifth consecutive loss overall for a team that looked like it was going nowhere fast.
But this Panthers team, much like that one, isn't going away.
The last home loss dropped Carolina to 3-7-1, and a lopsided loss at Minnesota in the Panthers' next game appeared to end their hopes of becoming the first team to win the NFC South in back-to-back seasons. That team, however sandwiched blowout victories on the road around a pair of victories at home to win the division against all odds, then Carolina cruised to an unbeaten record at home last season that established the Panthers as an elite NFL team.
It also turned them into a team that everyone wants to beat.
"We know a lot of people are coming after us and a lot of people want that spot," defensive tackle Kawann Short said. "We hold ourselves to a high standard in this locker room. You see that guys want to win and want to do better, but it all comes from within this organization.
"It's a sad feeling – a terrible feeling – to get this loss in front of the home crowd. We didn't finish the job. We were on the gas and we let up. As a team that wants to be the best, you have to finish."
That team two years ago finished strong, buoyed by the opportunity face each NFC South foe once over the final four weeks of the season. Now this team, after losses to two of the NFL's best defenses, gets the chance to face each NFC South foe over the next three weeks, starting with a trip to Atlanta to face a Falcons team that handed Carolina its last home loss before Sunday.
Given the challenge that team overcame back in 2014, this team surely can answer the call.
"It's a long season ahead of us," left tackle Michael Oher said. "Everything that happened today, we can get better from it."
View game action photos from Carolina's 22-10 loss to Minnesota.