CHARLOTTE – Star Lotulelei didn't amass the type of numbers that the Panthers' previous two first-round draft choices did in their debuts, but he did what top-end defensive tackles do.
"Obviously," fellow tackle Colin Cole said, "Star made a lot of good plays."
Lotulelei, picked by the Panthers with the 14th selection in the 2013 NFL Draft, recorded four tackles in his debut. Linebacker Luke Kuechly recorded seven tackles in his first game last season, and quarterback Cam Newton threw for 422 yards in his debut two years ago.
Beyond the numbers, he helped the defensive line create a consistent push against the Seahawks and limit them to an average of 2.7 yards per carry.
"It was good," Lotulelei said of his debut. "It feels great to have such great coaches like Coach (Eric) Washington and Coach (Sam) Mills, and we have a great group of veterans. That makes it easier on the younger guys."
Lotulelei, who started alongside veteran Dwan Edwards, didn't make it easy on the Seahawks. He nearly corralled elusive quarterback Russell Wilson for a safety and threw elite running back Marshawn Lynch for a 3-yard loss.
"We did a lot of great things on defense," Lotulelei said. "I feel like I missed a couple of opportunities on third down, but you don't get any plays back in this league. You just have to learn from it and get ready for next week."
CALLING ON COLIN: While Lotulelei made his NFL debut, Cole made his Panthers debut in a reserve role, playing for the first time since representing the Seahawks in a playoff loss to end the 2010 season.
"It was a bittersweet moment for me," Cole said. "Obviously I was excited to have the opportunity to get back out there and play after being out for two years. Winning would have made it even better, but I'm excited about the group that I'm playing with."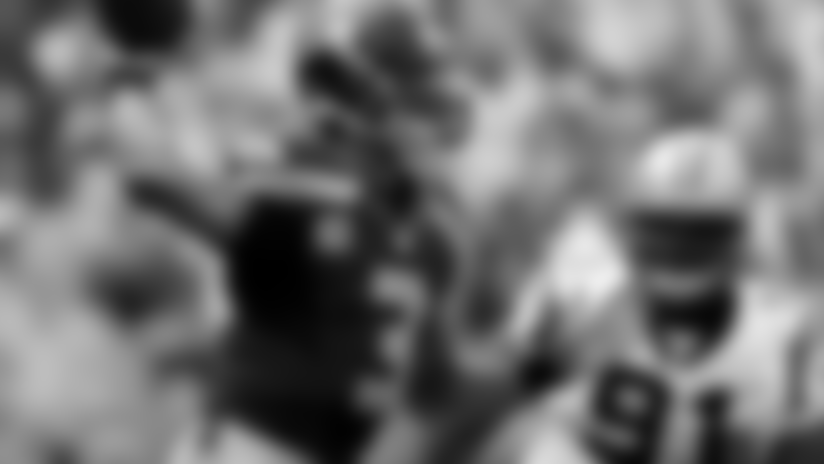 Cole, a veteran of eight NFL seasons before a serious ankle injury derailed him, said the defense turned in a strong performance and that he will get stronger as the season goes forward.
"We had a great game tackling, the coverage was awesome, and the defensive front was really active and made some big plays," he said. "I'm still working to get my feet under me all the time. I didn't do everything that I expect myself to do, but I'm going to continue to get better so I can help this team."
GARRY WILLIAMS INJURED: Panthers head coach Ron Rivera said that "it's not looking good" for starting right guard Garry Williams, who exited the game late in the first quarter with a left knee injury and didn't return.
"We will get an MRI on that to see exactly the extent," Rivera said.
After Williams departed, Chris Scott shifted over from left guard, and veteran Travelle Wharton came in at left guard. Scott started at left guard in place of Amini Silatolu, who missed the game with a hamstring injury. On occasions, Scott moved back to left guard and Jeff Byers played right guard.
"Thankfully we've been working all those combinations you saw during the week," left tackle Jordan Gross said. "We brought Travelle in for a reason. We knew we could plug him in and count on him. I thought Chris Scott, who doesn't have a lot of NFL game experience, did a really good job as well."
Rivera said he's hopeful the Panthers can get Silatolu back for next week's game at the Buffalo Bills. Same goes for starting strong safety Mike Mitchell (calf) and wide receiver Domenik Hixon (hamstring).
In Mitchell's absence, 10-year veteran Quintin Mikell - signed six days ago – started and got a helping hand from offseason acquisition D.J. Moore, who is listed as a cornerback.
"Quintin did a nice job. He just ran out of gas at the end of the day," Rivera said. "D.J. did a nice job for us at safety."
FLAGGED: Rivera said he'd take a closer look at a couple of penalties called on running back Armond Smith on back-to-back Panthers punts.
"I'm going to look at the tape as far as Armond is concerned," Rivera said. "The explanation they gave me, I'll have to see it on tape to see if it jives."
Midway through the third quarter, the Panthers were accessed 15 yards after officials said that Smith – playing gunner on the punt team – didn't immediately come back inbounds after being pushed out. The Seahawks got the ball at the 35 rather than the 20 and drove 43 yards for a field goal to pull within 7-6.
After the subsequent Panthers drive stalled near midfield and Smith tackled punt returner Golden Tate at the 10, the Panthers were accessed 5 yards and had to punt again after officials said Smith "voluntarily" went out of bounds.
The Seahawks returned the second punt out to the 26 and drove 74 yards for what proved the game-winning touchdown.