If the Panthers were to use the eighth overall pick in the 2017 NFL Draft on a defensive back, there's a pretty good chance the choice would hail from either LSU or Ohio State.
"It is DBU," LSU safety Jamal Adams said. "There's no other school."
It's hard to argue the point given that LSU had 10 defensive backs on NFL rosters last season. But this year Adams could be outnumbered in the top 10 by a pair of Ohio State defensive backs – one year after the Buckeyes had two DBs drafted in the top 61 picks to give the school eight defensive backs in the league all told.
"We lost a lot of talent, but we proved ourselves once again," said Ohio State cornerback Marshon Lattimore, poised to go from one-year starter to top-10 draft pick. "It's about making plays, doing what we do, doing it to the best of our ability."
Ohio State product Malik Hooker is considered to be in contention with Adams to be the first safety drafted. Meanwhile, corners Tre'Davious White of LSU and Gareon Conley of Ohio State have a good shot at being drafted before the first round concludes.
While LSU can claim Arizona Cardinals standouts Patrick Peterson and Tryann Matheiu, the Panthers have a couple of Buckeye bonds in the defensive backfield. Safety Kurt Coleman is a boastful Ohio State grad, and the team's all-time interception leader, Chris Gamble, also was a Buckeye product.
If the Panthers want to add that legacy or become the latest NFL team to look to LSU for secondary help, Adams or Lattimore could be in play at No. 8.
Adams is a prototypical safety who is more than a leader by example. He's a leader in the locker room as well, an elite talent who has a love of the game born from his father, George, a former NFL running back selected by the Giants in the first round of the 1985 draft.
"I kind of fell in love with the game at age five. Really. I started at age three," said Adams, who as a virtual toddler played with five- and six-year olds in a youth football organization his father headed. "Chasing butterflies and running the wrong way when I got the ball. I was on a team, flag football. First time I got the ball, I ran the opposite way. Everybody in the stands was telling me to go the opposite way. I turned around and scored a touchdown the (correct) way."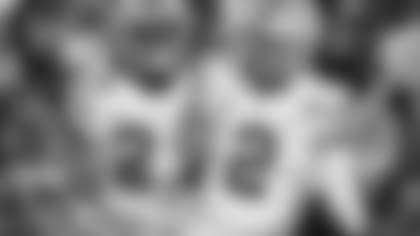 While Adams has been flipping fields ever since, Lattimore hasn't had as many opportunities to turn heads. Still, he's widely considered the top cornerback in the draft after displaying his love of the game with his sticktoitiveness.
"I didn't even know if I was going to be healthy enough to play or not, so it's just a blessing to be here," Lattimore said at the NFL Scouting Combine.
Lattimore was considered a prized recruit out of high school – a common occurrence and obviously a reason why both Ohio State and LSU have such a track record of placing players in the NFL. But Lattimore didn't play as a true freshman in 2014 because of a left hamstring injury and barely played in 2015 because of a right hamstring injury.
"I made it through the whole camp last year. The previous two years I didn't make it through three days of practice," Lattimore said. "Just to make it through the whole camp, I knew I had good hopes of a good season."
It actually was a great season, one that convinced him to pass on two remaining years of eligibility to enter the draft.
"Just going out there and being physical, very versatile, playing with great passion - that's what helped me be good this year, be great this year," Lattimore said. "At Ohio State, they prepare you the best. We perform in college and then we perform in the league."