CHARLOTTE – Linebacker Luke Kuechly walked into the press conference room at Bank of America Stadium with a big smile and an eagerness to show everyone that he's doing well.
His interview Wednesday was his first since he was carted off the field with a concussion on Thursday Night Football against the Saints in Week 11.
"It's been a process like it was last time," said Kuechly, who missed three games with a concussion last season. "But I think RV (head athletic trainer Ryan Vermillion) and those guys have done an excellent job making sure we cross all the T's and dot all the I's. Coach (Ron) Rivera and Mr. (Dave) Gettleman have done a good job throughout this whole situation."
Kuechly was cleared from the NFL's concussion protocol prior to Monday night's game at Washington, but the Panthers elected to make him inactive.
"Once that was said, my mindset changed from getting ready to play to getting ready to help Shaq (Thompson) and A.J. (Klein) and Thomas (Davis)," said Kuechly, who has been a valuable resource on the sideline during the four games he's missed.
With two weeks left in the regular season, Kuechly made it clear that he wants to return to the lineup. He will continue practicing and preparing to play.
"Everyone knows I want to play," Kuechly said. "I enjoy being on the field with the guys. I want to play. I know Coach knows that."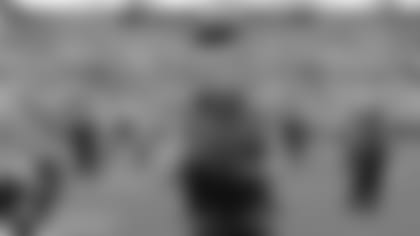 Kuechly knows there is a lot that goes into that decision, and that the organization is looking out for his best interest.
"He and I talked a lot," Rivera said. "He wants to play. I told him I've got a lot of things that I've got to weigh."
Rivera and the Panthers are applying long-term perspective to their star linebacker's playing status.
Kuechly didn't want to get into a discussion about concussion research during his press conference, but he is no doubt aware of the severity associated with head injuries. As for those who suggested Kuechly should consider retirement after suffering two in as many years, he indicated that's a ways away.
"I think a lot of people have an idea of what's going on and they don't necessarily know what's going with each individual person," Kuechly said. "Everyone's situation is different.
"I appreciate those guys want what's best for you. It's a thing that we are learning more about. I trust what our doctors have to say."
If the Panthers were to hold him out of the next two games, Kuechly said he'll reluctantly accept it. But he's hoping for another opportunity to take the field with his teammates before the season is done.
"I'm crossing my fingers every week that they are going to give me the thumbs up," Kuechly said.