CHARLOTTE – Comparing the first days of offseason workouts to the first day of school has become an NFL cliché. But it's a perfect analogy for a guy like Luke Kuechly.
Even though he's headed into his sixth season, Kuechly's just as giddy as he's been in the past now that he's back with his buddies inside the building. And since many on the outside are still concerned about his status, yes, he's full-go for offseason workouts.
"They gave me the thumbs-up," Kuechly said. "I've been working with the guys – Greg (Olsen) and Shaq (Thompson) and Jared Norris. It's been fun. I'm good to go, and I'm excited to get out there."
After suffering the second documented concussion of his career in a Week 11 win over the Saints, Kuechly wasn't fully cleared for three weeks. Once he was, the Panthers decided to play it safe by holding their defensive star out of the season's final three games.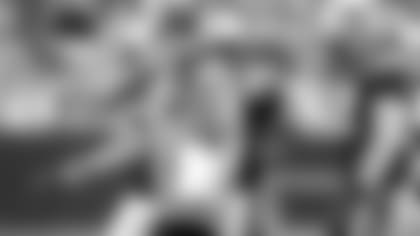 That unwanted time off, plus an offseason that included four extra weeks than last year has Kuechly even more anxious to get back on the field. As for how he filled the time during his forced vacation?
"I went on some good trips with my buddies, my family, and I spent a lot of time in Charlotte, working out," Kuechly said. "I also did some fishing and enjoyed the time off."
Despite the fact he was cleared four months ago, Kuechly knows concussion-related questions will keep coming through at least the spring. And while most of those come from a good place, there's currently not much reason to be worried about his status.
"Everyone is concerned, just worried about making sure you're OK, which I appreciate. It makes you feel good that people genuinely care about you," Kuechly said. "But I'm good to go. I got cleared Week 13 or 14, so I was able to practice and things went well. Things are continuing to go well, and I'll be good to go."
View photos of the Panthers as they participate in the strength and conditioning program.