CHARLOTTE – Head coach Ron Rivera could only provide confirmation Friday that linebacker Luke Kuechly is in the concussion protocol, one day after Kuechly left Thursday night's victory over the Saints in an emotional scene.
Keeping with his long-standing approach to his day-after-game press conferences, Rivera didn't plan to speak to head athletic trainer Ryan Vermillion about Kuechly or the Panthers' other injured players until after his press conference.
"He's in the protocol," Rivera said. "As I've said before, when it comes to injuries, I don't go until after I'm done with you guys. But I do know (center Ryan) Kalil has a shoulder, (defensive end) Mario (Addison) has a foot and (cornerback) Leonard (Johnson) has a chest contusion. We'll go from there. Other than that, I don't know because I haven't talked to R.V. yet."
A positive sign for Kuechly's general welfare came in the form of an Instagram post shortly before the press conference from fellow linebacker Thomas Davis in the Panthers' locker room:
Rivera said he appreciated the concerns expressed by Panthers fans everywhere in the wake of Thursday's scary moment. With less than five minutes to play, Kuechly went down to the turf after initially getting up upon tackling Saints running back Tim Hightower. A cart was brought out, and Kuechly got on it himself but was visibly shaken as he exited the field.
"I appreciate the outpouring, I really do. He does mean a lot to this organization and to the community as well," Rivera said. "Luke is a warrior, a guy that loves the game. It was an emotional time for him, an emotional time for his teammates. His teammates know how important it is to him, and he's a very important player for us, as are all of our guys."
There's no way to yet gauge if Kuechly will be able to return when the Panthers visit the Oakland Raiders in nine days. Kuechly seemed to be himself moments after going into the concussion protocol in last year's season opener but ended up sitting out three games. Kuechly's primary backup, A.J. Klein, also is in the concussion protocol and missed Thursday's game. David Mayo saw his first snaps on defense this season in Kuechly's place.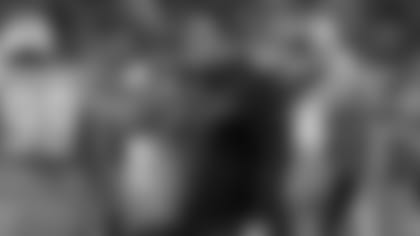 "We'll find out what we're made of," Rivera said. "You hate losing guys, and the most important thing is getting those guys healthy and getting them back on the football field. But we won't do that until they're ready, until they're right. That's something our training staff and medical staff will do.
"In the meantime, we have guys working hard, trying to get their opportunities, and I know they'll take advantage. That's why it's called a football 'team.' There are 53 guys. We'll do the best we can, show up, work hard and get ready for Oakland."
It could prove that the injury to Kalil becomes a bigger concern. He managed to stay on the field until midway through the third quarter with a shoulder injury that sidelined him the last two games but couldn't go any further. With backup Gino Gradkowski inactive with a knee injury, Chris Scott took the first regular season snaps at center of his seven-year NFL career.
"Honestly we didn't even notice he was out until we looked down and saw dreads hanging from the center," fullback Mike Tolbert said. "It was like, 'Oh, Chris is in. What's going on?' He did a great job."
Rivera is giving the players the weekend off, and he's glad the Thursday night game will give his injured players some extra time to mend.
"Relaxing to a degree, though there are other things to worry about obviously," Rivera said. "The nice thing is we've got three more days before we start getting ready for Oakland."
View the top photos of Panthers vs. Saints by team photographer Melissa Melvin-Rodriguez.