On the start of OTAs: "Everyone is doing good. It's always exciting to get the young guys out here and see what they've got. I think we're moving in the right direction. You want guys to come in and play hard. Guys are going to make mistakes this early. But guys are having fun and playing with energy, and I think that's the biggest thing you look for."
On how he feels: "I feel great."
On turning the page after a tough year: "This is kind of the real point in which the next season starts. Good and bad, you have to move forward from what happened last year and understand that it's a new team, new guys and the slate is wiped clean."
On Panthers' activity in free agency: "You bring Pep back, Matt Kalil, Captain – there is a conscious effort to bring guys in to help us out. They are guys that have played for a while and been successful. I like those guys. And some of the under-the-radar guys – I think Shep (Russell Shepard) can be a guy that can help us out."
On adding so much experience will help the defense: "I think so. Those guys are kind of plug and play. They've been around, they know what it takes. There is something to be said for having older guys on the team that understand what it takes to win and to study."
On playing with Peppers: "When he walked in I was like, 'Man, that's Julius Peppers.' When we played them in Chicago my rookie year I just couldn't wait to meet Julius Peppers. He's a great guy and he's still got a ton of juice. It's cool for not only me, but I'm sure a lot of other guys on the team."
On if it feels like 2015 with so many veteran additions: "(That year) there was Jared Allen and now we have Pep. We had Roman (Harper) and now we have Mike Adams. Captain is another good add, and you can liken him to a guy like Peanut (Tillman)… Having older guys helps."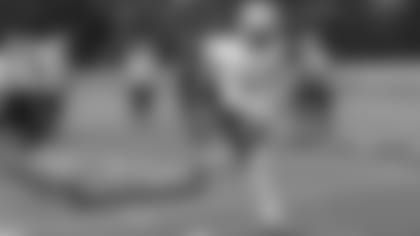 On his six-game absence at the end of last season:"Everybody knows I want to play, and everybody knows the decision was made by the coaches. Hopefully we can move on from that and not ask any more questions about concussions because I'm done with that. I'm excited for this year. Coaches always worry about guys and their safety, but hopefully I don't have to worry about it this year."
On the team's rookies:"They're good. Obviously it's still early on for those guys, but you look for these guys to play hard, learn and ask questions. As long as you've got that, this early that's all that matters. Obviously Curtis (Samuel) and Christian (McCaffrey) aren't here, but Corn (Elder) is doing a good job. He's a guy who talks, communicates. Daeshon (Hall) is going to learn, too – he has great coaches helping him out. You look for those guys to come in, work hard and have a good attitude. That's what they have right now."
On his back keeping him out of team drills: "It's good. It's just sore. I don't think it's anything to worry about. It's just sore right now. I've just got to get it to loosen up so I can move how I want. Maybe I need to figure out a different way to sleep or something, but it will be all right."
On the team's offseason progress: "All the young guys that played a lot last year will have another year under their belt. James (Bradberry) and Daryl (Worley) are going to be good players. They work hard. They want to learn. They're smart guys. They learned quick last year, and they're definitely going to be better. I think we got better on offense, too. We got some guys who are scary with the ball. I think we've got a chance to be pretty good."