CHARLOTTE – For linebacker Luke Kuechly and the Panthers defense, the closing minutes of Sunday's win over the 49ers was a bit of a roller coaster.
Tight end Vance McDonald's 75-yard touchdown catch cut the Carolina lead to seven with just under eight minutes left. Rookie cornerback Daryl Worley's unfortunate slip created the clear path to the end zone for McDonald, but Kuechly felt he could have done more to defend the pass.
"I don't think it was one guy's fault. We've just got to get there. We'll get that stuff fixed. I've got to push to (McDonald) more," Kuechly said.
"We've got to limit those big plays because those will come back to bite you."
Seemingly fueled by the frustration of allowing that big play, Kuechly and Panthers responded with takeaways on the next two San Francisco possessions to close out the victory.
Kuechly read Gabbert's eyes and stepped in front of wide receiver Jeremy Kerley for his first interception of the season. To no one's surprise, he credited a teammate for making it happen.
"You go back and look at that play, the guy that had a big impact was Star (Lotulelei)," said Kuechly, whose 12 interceptions since 2012 are the most among linebackers.
"He had a great rush, got his hand up and either got a piece of the ball or got his hand right in Gabbert's face. When those guys rush like they do, it makes our job a heck of a lot easier."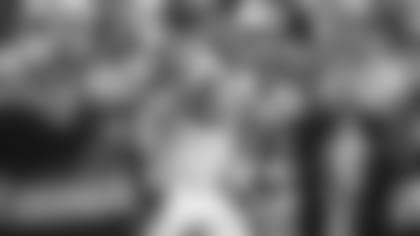 San Francisco's next possession ended with another interception, this time by rookie cornerback James Bradberry, who impressed in his second career game. In fact, Bradberry was the top graded cornerback by Pro Football Focus in Week 2.
"My gosh, yeah, he looked really good," Kuechly said. "He made a great play on the ball at the end of the game; he had a couple big pass breakups. I think James is going to be a really good player."
Looking ahead to Week 3, the big question for the Carolina defense is who they'll see in the backfield. Vikings superstar Adrian Peterson tore his right meniscus during Sunday night's win over the Green Bay Packers, and his status for Week 3 is uncertain.
"Last time we played (Minnesota) they didn't have him, and they beat us," said Kuechly, recalling the 31-13 defeat in 2014. "One guy doesn't make a team. Regardless if Adrian Peterson plays or not, we've got to make sure we're in our gaps."
View the top photos from Carolina's win at home by team photographer Melissa Melvin-Rodriguez.