Each week in the NFL, fans and media members alike share their opinions and make their game picks.
This year, Panthers.com is showing you what Madden 18 has to say. This week, the Panthers open the regular season with a road contest against the San Francisco 49ers. The Panthers had to rally after San Francisco surged in the middle part of the game, riding a strong fourth quarter to a 25-18 victory.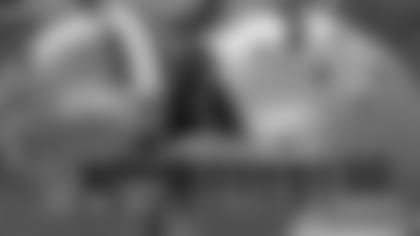 Carolina got off to an ideal start when cornerback James Bradberry intercepted a Brian Hoyer pass on the first snap of the game and returned it into the red zone, setting up Jonathan Stewart for a 12-yard touchdown run. Rookie running back Christian McCaffrey produced 56 yards on offense in his debut – highlighted by four receptions - but on this day it was a Stewart-led rushing attack (20 carries, 118 yards).
After the Panthers' initial burst though, the 49ers took control. Robbie Gould's three first-half field goals put San Francisco on top, then Hoyer hit Jeremy Kerley for a 3-yard score just before halftime for a 15-7 lead (the PAT missed). Both teams' kickers hit a field goal in the third quarter – with Graham Gano nailing a 52-yarder – setting the stage for a dramatic fourth quarter.
The Panthers pulled even early in the quarter, when quarterback Cam Newton hit Kelvin Benjamin for a 10-yard touchdown and then connected with him for a two-point conversion that made it 18-18. Linebacker Luke Kuechly picked off Hoyer on the 49ers' subsequent possession, setting up the game-winner – a 3-yard scoring pass from Newton to wideout Russell Shepard.
View images of the Panthers from Madden 18 gameplay.