Each week in the NFL, fans and media members alike share their opinions and make their game picks.
This year, Panthers.com is showing you what Madden 18 has to say. This week, the Panthers visit the Jets. It was a one-score game throughout, but a late field goal gave New York a 20-17 victory.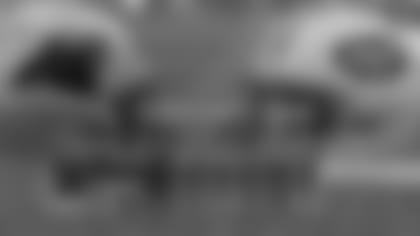 The Panthers took an early lead on a 1-yard touchdown plunge by Jonathan Stewart, but the Jets held Carolina's run game in check, limiting Stewart and Christian McCaffrey to 41 yards combined. Bilal Powell grinded out 96 yards on the ground for New York, helping put the offense in position for three first-half field goals from Chandler Catanzaro to keep the Jets within 10-9 at halftime.
Powell accounted for the third-quarter scoring with a 2-yard touchdown run and then a two-point conversion run to forge a 17-10 lead. Tight end Greg Olsen had four catches for 49 yards in his return from injured reserve, setting the stage of McCaffrey to tie the game in the fourth with a 19-yard touchdown reception from Cam Newton. Catanzaro, however, won it with a 30-yard field goal in the final minute.
Kawann Short, Thomas Davis and Wes Horton each recorded a sack of Josh McCown, but the Jets quarterback didn't turn the ball over.
View images of the Panthers from Madden 18 gameplay.