Each week in the NFL, fans and media members alike share their opinions and make their game picks.
This year, Panthers.com is showing you what Madden 18 has to say. This week, the Panthers visit the Saints in a showdown for first place in the NFC South. The Panthers started strong but the Saints finished stronger, rolling to a 35-21 victory.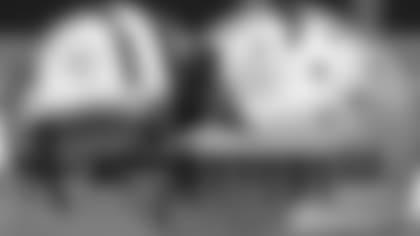 Carolina controlled the first quarter-plus of action, jumping on top with a Graham Gano 52-yard field goal, then extending its lead to 10-0 on a 1-yard plunge by Jonathan Stewart. From there, though, the Saints scored 35 of next 38 points, including a quartet of touchdowns from their talented duo of running backs.
Mark Ingram got it going with a 1-yard touchdown run, the first of three second-quarter touchdowns that earned the Saints a 21-13 edge. Alvin Kamara scored on an 18-yard reception out of the backfield, then wide receiver Michael Thomas capped the half with a 5-yard scoring catch.
The onslaught continued in the third quarter, with the passing of Drew Brees (who finished with exactly 300 yards) setting up Ingram for a pair of 1-yard scores to break the game open. The Panthers got a 2-yard touchdown run and a two-point conversion run from quarterback Cam Newton in the fourth quarter, but it simply wasn't enough.
View images of the Panthers from Madden 18 gameplay.