Each week in the NFL, fans and media members alike share their opinions and make their game picks.
This year, Panthers.com is showing you what Madden 18 has to say. This week, the Panthers host the Dolphins on Monday Night Football. The Panthers took control early and steadily built their lead, eventually claiming a 34-13 triumph.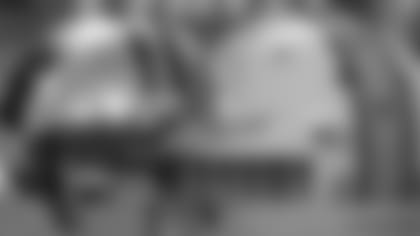 Carolina got on the board early when rookie fullback Alex Armah turned his first NFL touch into a touchdown, sneaking out of the backfield for a 7-yard reception that made it 7-0. It was the first of four touchdown passes for quarterback Cam Newton, who was the picture of efficiency – throwing for four scores on 19 completions. The Panthers threw for and ran for more than 200 yards.
Another 7-yard touchdown pass, to wide receiver Russell Shepard late in the first half extended the lead to 17-3. In the second half, Newton connected with wide receiver Devin Funchess for a 2-yard score and tight end Ed Dickson for a 15-yard score.
The defense held the Dolphins out of the end zone until the fourth quarter. Cornerback James Bradberry had an interception, defensive end Mario Addison had two sacks and linebacker Luke Kuechly and defensive end Charles Johnson added one apiece.
View images of the Panthers from Madden 18 gameplay.