(Editor's note: With the 2021 NFL Draft coming up next week, we're taking a daily look at the different paths the Panthers could choose with the eighth overall pick. Think of this as an argument for a particular position, rather than a prediction.)
CHARLOTTE — You can't rebuild a football team all at once. There are too many jobs, and not enough draft picks or dollars to fix everything you want, exactly when you want, so sometimes you have to make do.
It's like buying a house, knowing you'd like to remodel the kitchen and the bathroom, but realizing you still have to eat and shower while you're unloading boxes. You put up with that weird tile for a year.
That was the Panthers' approach to the secondary last season, but now they have a real chance to make the kind of improvements they need.
The Panthers spent the offseason adding names to the depth chart, but they still lack what you'd call a long-term plan at cornerback, which makes considering using the eighth pick in the draft (or something shortly thereafter if they decide to trade back) on the position worthwhile.
There are several quality possibilities in the middle of the first round, all of whom would be upgrades for the Panthers if that's the way they decided to go.
From Virginia Tech's Caleb Farley to Alabama's Patrick Surtain II, to South Carolina's Jaycee Horn, there's a strong group of cover guys available in the top half of first round, and the chance at finding a contributor in the second or third round as well. If the Panthers end up trading back a handful of spots in the first round, those three could still be in their sights.
What's clear is that they need to find one.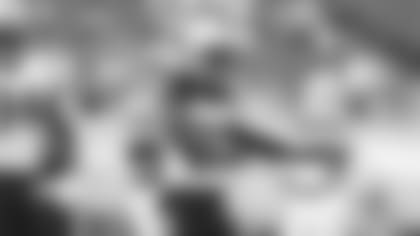 The Panthers threw an entire draft at defense last year, and it's too soon to tell if fourth-rounder Troy Pride Jr. or seventh-rounder Stantley Thomas-Oliver III are going to develop into players on whom they can rely.
The closest thing to an answer at the position last year was Donte Jackson, who improved steadily as the year went on.
The only problem is, Jackson began to show he was getting it just in time for his contract year, so all they can be sure of is having him for this season.
Otherwise, they've attempted to backfill with veterans. A year ago, they tried with Eli Apple (regrettably) and Rasul Douglas (who just signed with the Raiders). To call the results mixed would be kind, as Apple didn't work out at all, and Douglas was occasionally sufficient.
This year, they added Rashaan Melvin and A.J. Bouye in free agency, a better grade of older guys.
But the fact they are the third- and fifth-oldest players on the roster is not ideal, at a position that demands cutting and running with some of the most dynamic players in the game.
Bouye could still be a quality addition, who has played at a high level somewhat recently (he was great for the 2017 Jaguars when they made the AFC Championship Game). But injuries and a suspension (which will carry over into the first two games of this season) marred his one year with the Broncos.
Even if he bounces back this year, he's still turning 30 during training camp, so the need at the position is acute.
The Panthers know this too, and it's why they were involved in discussions on a number of corners who went on to sign contracts elsewhere on deals that reflected hope (or desperation) more than the value those players have exhibited so far in their careers.
Money is often a crude way to express value, but the prices for top cornerbacks are among the top in the game, with the franchise tag for corners trailing just quarterbacks, defensive ends, and wide receivers. That means, if you want a good one, it's going to cost you, so drafting one who'll be cheap for four years is always a much better plan.
Bouye was once one of those high-priced guys, getting a top-of-market deal from the Jaguars in 2017 (a five-year, $67.5 million splurge). This year, as he entered the scratch-and-dent phase of his career, he's a more affordable option (two years, $7 million).
The Panthers have done a solid job of stacking playmakers in the defensive front seven, and with the arrival of linebacker Denzel Perryman, there's a chance Jeremy Chinn will play more snaps as a defensive back this year (though he's still going to be all over the field).
Adding a young corner to begin to build the secondary is the next step. The Panthers know this — it's just a matter of how quickly they choose to act on it.