It's fun to daydream about quarterbacks. It's fun to talk about quarterbacks. It's fun to argue about quarterbacks. 
Occasionally, however, reality sets in. And it's often decidedly less fun.
The Panthers were mentioned in recent reports about trading for quarterback Matthew Stafford for one simple reason -- they were involved in the discussions.
The Panthers will be mentioned in reports about other quarterbacks this offseason for one simple reason -- they will be involved in the discussions.
When new Panthers general manager Scott Fitterer said the team would "be in on every deal," he meant it.
But he's not the only one thinking about quarterbacks this offseason, so the reality remains that he might not close one of those deals.
And that's why fans or media looking for declarative statements about any particular quarterback from head coach Matt Rhule or Fitterer probably aren't getting one anytime soon, because not enough is known at the moment to make one.
The Panthers are going to look. The Panthers are going to investigate. The Panthers are going to make calls.
The Panthers might also go into the 2021 season with Teddy Bridgewater as their starter, the way it was likely pointed when he signed his three-year contract, and the way it could be headed if the tumblers of the most difficult lock to pick in the NFL don't fall exactly the right way.
Bridgewater's deal was effectively built for him to be the bridge, to help the team over the rough waters of a first rebuilding year with a degree of competence, and then be ready to groom an eventual replacement unless he proved he deserved the job long-term.
It can be an awkward position to be in, for both the team and Bridgewater, unless the coach and quarterback are transparent about where they stand. Rhule said the day after the 2020 campaign ended that Bridgewater "hasn't played his best ball" over the last month of the season, and that "Teddy has to have a tremendous offseason."
He also referred to "glimpses and flashes" of what the offense could look like with Bridgewater at the helm, though they were brief.
There's a reasonable argument to be made that Bridgewater with the full complement of weapons they intended to put around him would have had a better result. He did go 5-0 as a starter in New Orleans, with a better roster and an established coaching staff.
But last year, he enjoyed just three games with running back Christian McCaffrey, seven with left tackle Russell Okung, and none with a tight end who caught more than 20 passes.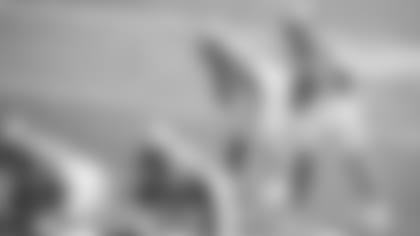 Without McCaffrey, or what you'd call stability up front, or a veteran receiving target at tight end, the Panthers managed five wins last season (one coming when Bridgewater was out against the Lions).
So you could see a situation where adding the parts around him could make Bridgewater, and thus the team, better. How much better? That's a different and more complicated question.
"I think every player is evaluated strictly off the body of work that they do and making sure that we're putting them in positions to have success," offensive coordinator Joe Brady said in late December. "I don't think you can evaluate guys by saying, 'How would it be if we had that person?'
"What we've loved about Teddy is he's been consistent with his approach every week. No matter wins or losses, he's been prepared and ready to go each week." 
Of course, part of the reason this is a conversation at all falls on Bridgewater himself. He didn't play well over the last month-and-a-half of the season, though dissecting how much of that's on him and how much the situation around him makes for great talk radio and Twitter fodder. 
But having opened the door to speculation about his future with his own play, Bridgewater can't be surprised when names stack up to fill the offseason vacuum.
And they're going to continue to stack up.
That's not the same, however, as any of them walking through the door.
If there's a big fish to be acquired at the position, the Panthers don't necessarily have the right bait. Picking eighth overall, there will be teams with equivalent-or-greater needs at the position who can make a better offer in terms of draft slots (such as the Jets, who pick second).
And if you're not landing a big fish, it's fair to wonder whether other options (including free agents, guys available in trade, and guys who become available after their team drafts or trades for one) are actually better options.
Their current draft position also means they can't plan for certain that they'll take one in April.
During the offseason, draftable quarterbacks often become commodified, as if every "young quarterback" has an equivalent chance to become Patrick Mahomes.
They do not, and the reality is, few will. It's also unclear whether, given time to evaluate the consensus top four picks, that the Panthers would consider all four of them good fits for what they want to do in the future. After watching tape, and talking to coaches, it's possible that a name that gets mentioned a lot between now and the draft might not be in the mix at all.
It's also the second day of February.
But with every move that's made at the quarterback position around the league this offseason, it's possible the Panthers might not make any moves at all, and move forward with the one they made a year ago.